As an institution of higher learning dedicated to the liberal arts and sciences, Truman State University recognizes the importance the out-of-class experience plays in student development and in enhancing the college experience. Whether it be intramural sports, part-time work, research projects, internships, clubs, or other experiences, participation in cocurricular activities allows you to take what you have learned inside of the classroom and apply it in practical settings.
Use our Cocurricular Planning Map as a Starting Point
Begin by completing the self-assessment to identify skills requiring additional development.  Then, utilize the Cocurricular Planning Map to plan your out-of-class experience in order to obtain the skills from the assessment. The planning map divides experiences into four quadrants: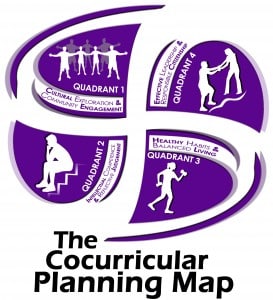 Quadrant 1: Cultural Exploration and Community Engagement
Quadrant 2: Intelligence Competence and Reflective Judgment
Quadrant 3: Healthy Habits and Balanced Living
Quadrant 4: Effective Leadership and Responsive Citizenship
And to make it easy to track your progress through your time at Truman, we provide you with two methods to keep track of these activities — the Cocurricular Journal and the Cocurricular Record.  The Cocurricular Journal allows you to record, review, and reflect upon personal out-of-class experiences in addition to the preapproved experiences.  Upon request, the Student Affairs office will provide you with your Cocurricular Record – a transcript of your out of class experiences that can be sent to prospective employers and graduate schools.
TRU Bulldogs are well-rounded and prepared for the future. Are you a TRU Bulldog?  We challenge you to obtain experiences in all four Quadrants!