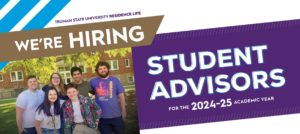 Our Student Advisors work hard all year to create welcoming living environments, foster lasting relationships, and create a community of learning and development.
Being a Student Advisor takes initiative, resilience, and organizational skills. Throughout your time with us, you'll develop as a leader, foster collaborative relationships with others, and find ways to expand your experiences.
Please make sure to browse the information below carefully before moving on to the application. For any additional questions, please contact reslife@truman.edu.
---
Position Descriptions:
Spring 2024 Student Advisor: We may have a small number of positions opening at semester. As you can see in the timeline below, the turnaround to apply for these positions is quick. These staff members will receive training in January to prepare to serve as a Student Advisor.
2024-2025 Student Advisor: This is a full year SA position for the 2024-2025 academic year. These staff members will receive training in August to prepare to serve as a Student Advisor.
You can apply for one or both of these positions by completing the single application linked at the bottom of this page.
Hiring Timeline:
October 9, 2023: Application opens online
October 23, 2023: Mid-Year Candidate Applications Due
October 30- October 31, 2023: Mid-Year Candidate Interviews
January 19, 2024: Full-Year Candidate Applications Due
February 5-8, 2024: Full-Year Candidate Interviews
February 20, 2024: Full-Year Position Hiring Announcements
Please note: this timeline is subject to change as Truman adjusts the academic calendar and conditions on campus.
Information Sessions:
To ensure you understand the role/ responsibilities of the positions you are applying for, we will hold information sessions to answer questions prior to submitting your application.  Please note, you are not required to attend an information session to apply for an open position. All sessions will have the same content.
Monday, October 16, 8:30 PM
Missouri Hall Chariton Room
Tuesday, October 17, 4:00 PM
BNB 1 North Lounge
Tuesday, October 17, 7:00 PM
Student Union Building – Lower Level
Wednesday, October 18, 6:30 PM
Ryle Hall Main Lounge
Thursday, October 19, 7:00 PM
West Campus Suites Multipurpose Room
Interview Process:
We typically receive more applications than there are interview spots available.  Invitations for interviews are not guaranteed for all application submissions.
You will be notified via email regarding your application status, including offers to attend interviews and applicable dates, times, and locations.
As we get closer to the interview period, we will update candidates on what types of interviews will be used and how to sign up for interview timeslots
References:
We require references from the following individuals:

A Current Student Advisor: The perspective from someone currently in the role provides valuable insight. You will want to list the name and email address of a current SA that can speak to your candidacy. It doesn't have to be the SA for your community, but it should be someone who knows you. If you do not currently live on campus, you can list a former SA or an additional independent reference instead.
Independent Reference: The second reference can be anyone outside of the Residence Life staff that can attest to your skills and character. This cannot be a family member or friend. Instead, think of people like previous supervisors at jobs you've held, teachers that advised a student organization, the leader in a service program you helped in, a professor at Truman that has gotten to know you, or anyone else who can provide an objective reference.

Ensure all contact information for references is accurate and that you have informed your references to expect an email from Residence Life asking for their feedback on your candidacy for the SA position.
If you have any questions about your application status or anything related to the hiring process, please email reslife@truman.edu.
Apply Here
---
Truman State is an equal opportunity and affirmative action employer committed to assembling a diverse, broadly trained faculty, and staff. Women, minorities, people with disabilities, and veterans are strongly encouraged to apply.