Move-In Day
First-Year & Transfer Students
Make Your Way to Missouri Hall
All roads lead to Missouri Hall on Move-In Day.  When you get to Kirksville, start heading towards the Truman campus.  Your best bet is to take Business US-63/Baltimore Street to Normal Avenue.  Head west on Normal Avenue towards Davis Street.  You'll happen upon one of the checkpoints, and they will direct you to Missouri Hall.
Satellite View of Missouri Hall
What Do I Need to do Before I Arrive?
Before you show up at Missouri Hall, you must go online and provide your emergency information.  You can access it by clicking the "Deposit and Room Status Inquiry" link in the Student Tab on TruView.  If you need help finding this link, please call the Residence Life office during the day at 660-785-4227.
What to Bring
You're moving out of your parents' place into a college residence hall.  Deciding what to bring and what to leave behind can be tricky.  We recommend packing light and bringing more stuff up later once you've lived in the room for a while.  Bring your summer clothes, bedding, toiletries, computer, pictures, some good books, and other items you will need.  Then, after a few weeks of living together in your new room, you and your roommate can decide if there is a place for that giant beanbag chair you've had your eye on.  Remember, your room already comes fully furnished and has lots of storage space, so there isn't an need to bring up a lot of additional furniture.
Before bringing something big up, check with your roommate first. There's not a whole lot space for extra furniture, fish tanks, or giant televisions. Live with your roommate for a while and then see what else you might want to bring up. Also, be sure to check out the Residence Life policies so you know what items you are not allowed to have in your room.
Parking
You will temporarily park in the Missouri Hall parking lot, located directly behind the building.  You'll park there just long enough to check-in and get your things moved up to your room.  After that, someone will need to move your car to one of our long-term parking lots.  This will free up the lot for other students to use to check-in.  You can ride a shuttle from the long-term parking lots back to Missouri Hall.
After 3:00 PM, you are welcome to move your car back to the MO Hall lot, provided you've purchased a green student parking pass.  For more information about student parking passes, please contact the Department of Public Safety at 660-785-4176.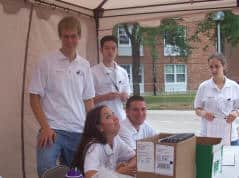 The Check-In Tent
Once you've parked your car, head on over to the Check-In Tent.  Here you'll meet members of our Student Advisor staff.  They will verify that you live in the hall and that all of your immunization records, particularly the meningococcal information, are up to date with Truman.  You will receive your Truman Days folder with a detailed schedule of everything you'll be doing for the week.  They will set you up with a Truman T-shirt and some other free goodies.  It's your special day, so you get free stuff.
Usually we have great weather for Move-In Day.  Should it rain on Move-In Day, check-in will be moved to the Chariton Multipurpose Room inside Missouri Hall on the first floor.
Your Room Key, Bathroom Code,
and Student ID Card
Once your forms are completed, you will get your key packet.  The key packet will have your room number, bathroom keypad code, email address, mailbox combination, and Student Advisor names.  Inside the packet you'll find your room key and your student ID card, if you had your picture taken during summer orientation.  If you didn't get your ID picture taken, you will want to swing by the ID office in MH 1100 that day so you have an ID card for meals and entry into the building at night.
Keep this packet as a record of your information in Missouri Hall.  Once you've got the key packet, head on up to your room.
Housing Condition Report
Before you start unpacking, there will be one last form waiting for you on your desk.  Be sure to fill it out before you start setting up the room. The Housing Condition Report allows you to note the condition of your room and list any damage that was there prior to your arrival.  When you checkout in May, we'll use this form to see if new damage happened during your stay.  You will be charged for any damages that you didn't note on your HCR, so make sure to complete in accurately.
Your completed HCR must be returned to the Hall Desk or Hall Office on Move-In Day, so fill it out as soon as you get to your room. Remember, this is your one chance to note any existing damage in your room.
Setting Up Your Room
You don't need to have your whole room rearranged and setup before your family heads out. In fact, trying to setup your room while all your family, your roommate, and your roommate's family are crammed in your room can be a real headache! Often times students say, "I was sad to say goodbye to my family, but honestly, I just needed them and my roommate's family to head out and give us some space to figure things out on our own!"  You've got all year to get it just right, so don't feel like it has to be perfect on day one. Wait a few days, take a look at everyone else's rooms, and then have some new friends help you move furniture.
If you're planning on hanging things on the wall, please be careful. On the original plaster walls (textured surface), students have good luck with 3M Command Adhesive Strips. They do need to be removed properly, and even sometimes still cause damage that you would be billed for. It's a risk for sure. Please don't use nails or pins as they will damage the plaster.
On the drywall (smooth surface), please do the exact opposite of what we just said. 3M Strips often tear the drywall when removed, so we encourage you to use pushpins. We won't charge you for a few small holes in the drywall. Your room will likely have both types of walls (the drywall was added during the renovation), so be sure you're doing the right things for the right wall type.
Time To Say Goodbye
At 3:00, it is time to say goodbye to your family and wish them a safe trip home.  Now you're a Truman student, and it's time to begin a new chapter in your life.  Get ready for an exciting week filled with exploration and challenge, discovery and joy.
Welcome to Missouri Hall.  Welcome . . . Home!