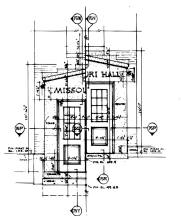 OK, now it's time to get to know Missouri Hall a little better.  While nothing tops getting to see the building in person, we hope this page can give you a better representation of what it's like inside Missouri Hall. This will be a page that grows in the coming weeks.  Keep checking back for more information.
If you are living in Missouri Hall, it is best to live in the space with your roommate for a bit and then decide on what to bring additionally.  Then you will have a good idea of how you'll be suing the room together and what else will fit.
Please Note:  It is not possible over the summer for staff to go to your and measure exact dimensions of furniture or areas.  The building is occupied by camps and conferences over the summer, and we want afford them the same privacy and respect in their room as we will with you in the school year.  We often rotate out pieces of furniture when they are old or damaged, so measurements in a room also change throughout the summer.  It is best to live in the room for a bit, decided how you and roommate will use the space, and then take measurements for additional items you would like to add.
Video Tour
Scale Room and Furniture Drawings
We've made scale drawings of typical double rooms and deluxe double/multiple rooms.  We've included scale drawings of the furniture as well.  This will give you an idea on how you might want to set your room up.  These drawings are fairly typical, though all rooms will vary in dimensions.  The same is true for furniture.  That being said, feel free to print the drawing of your room type, cut out the furniture, and go to town setting up your room.
Standard Double Room
This is for any room number ending in 0, 1, 2, 3, 4, 5, 6, or 7.
Deluxe Double Room
This is for any room number ending in 8 or 9 (excluding rooms in the crossover wings, including 3008, 4008, and 5008).
Maps of Missouri Hall
Room Furniture and Features
Each room in Missouri Hall is richly furnished and setup with the amenities you'll need.  All furniture shown is provided and must stay in the room for the entire year.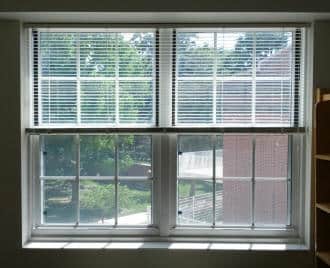 Windows

72.5″
W x 56″ H
39″
W x 56″ H
Every room comes with a beautiful double window.  The windows were replaced during the renovation and are now double paned.  The come with screens, good locks, and are secured for safety to only open a few inches.  Removing the screens or the safety stops is against hall policy.
The deluxe double rooms have an additional single window on the other exterior wall.
As you can see, each window comes with mini-blinds.  If you are going to hang curtains, we recommend using an adjustable length tension rod.  No hardware should be screwed into the wall.  We also recommend living with your roommate for a few weeks before deciding on curtains or any additions to your room.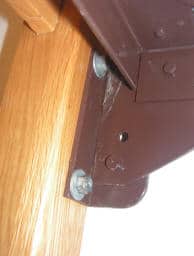 Your Bed

81″ W x 36.5″ D x 72″ H
Each resident receives a bed with many versatile configurations.  The beds come lofted by default, but with a little effort the bed can be lowered to standard height or bunked with the other bed in the room.  Some students choose to "L" their beds by lofting one and lowering the other perpendicular to the lofted bed.   The sturdy construction is easy to work with.  Just bring a 9/16 in and 1/2 inch wrench with you to remove the bolts to make the adjustments.
The mattresses are standard twin-size, so there is no need to try and find the extra long sheets.  Some companies may contact you over the summer and try to sell you extra long sheets, claiming that all our beds are extra long.  This is not true.
Each bed comes with a removable ladder and a removable bed rail.  You don't have to keep them on your bed, but they are provided for your safety and must remain in the room all year.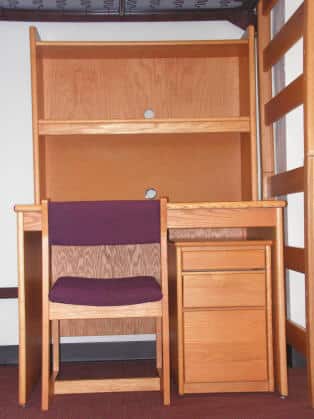 Desk and Drawers
42″ W x 30″ D x 62″ H (Desk)
16″ W x 24″ D x 25″ H (Drawers)
Each resident gets their own desk in the room.  The desktop is over 2 feet deep, which is plenty of room for your computer monitor, keyboard, and studying.  Each desk has an attached bookshelf with corkboard on the lower backing.
Each resident also gets a set of desk drawers.  The drawers are separate from the desk and can be placed anywhere in the room.  They are sized to fit directly below the desk as well with plenty of room for the chair.
The desk will fit under a lofted bed, which helps to free up a lot of room.  The bed will need to be lofted on its highest setting to accommodate the desk.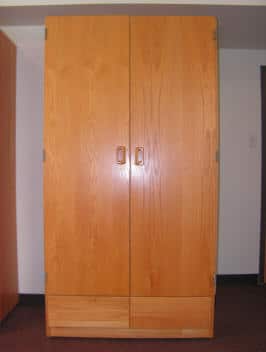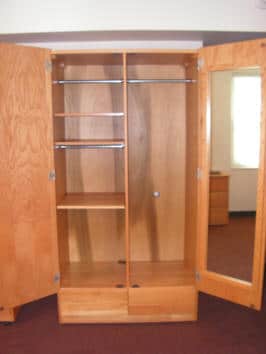 Wardrobes
42″ W x 24″ D x 81″ H
All residents get their own wardrobe.  These spacious units are a great way to store your clothes and supplies.  Each side has a bar or two to hang clothes from.  Each side can also support the shelves that come with the unit.
The inside of one door features a full length mirror.
At the bottom of the unit are two drawers great for stowing folded clothing or supplies.
The unit is large and heavy, but it is on wheels to help you move it around the room when changing up your room layout.
Students really appreciate the abundance of storage.  Depending on the ceiling height in the part of the room where you place your wardrobe, you can also store items on top of it.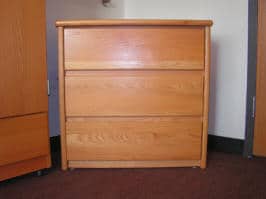 Dresser
31″ W x 20″ D x 40″ H
Each room has a single dresser for the residents to share.   Each drawer is deep and can hold a lot of clothes.  Some rooms have a three drawer unit and some have a four drawer unit.  What your room has is, quite honestly, just the luck of the draw.  A lot of residents use the top of the dresser as the location for their television.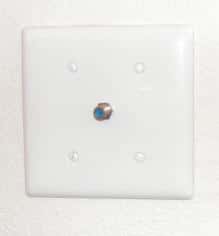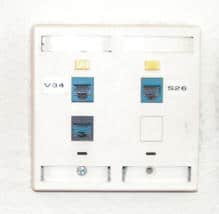 Cable, Internet, and Phone
Each room has one cable TV connection in the room.  Cable hooks up to your TV with a standard coaxial cable, which is not provided, so be sure to bring one.  You can also split the signal with a simple coax splitter if you need two or more connections.  Our cable signal is not HD, so you do not need to bring a converter box for analog televisions.
Each person in the room gets their own wired internet connection.  These are high speed connections and use a CAT5 patch cable to plug into your computer's Ethernet port.
Wireless internet is available throughout the entire building.  Because it is a shared connection, it is slower than the wired connections.
You can learn more about connecting to the internet on campus by visiting with Information Technology Services.
There is a port in the room for telephone service, but this is not a standard service for residents.  Most residents use their cell phones.  If you would like to activate your telephone line, you'll need to work with Residence Life and pay a separate fee.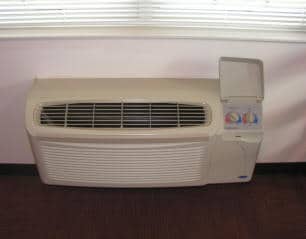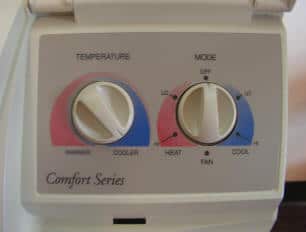 Heating and Cooling in Your Room
Missouri Hall residents live in climate controlled rooms.  This is nice on warm summer days and cold winter nights.
Each room has its own unit.  The unit is completely controlled by the residents so they can set the temperature they would like in their room.  In addition to heating and cooling the room, the unit also cycles in fresh air.
New windows were added during the renovations to help better retain heating and cooling efforts.
The new heating/cooling units are wonderful but do use considerable amounts of electricity.  We encourage residents to use their units responsibly, especially when not in the room, to keep costs low and safeguard the environment.
During the winter months, we do ask that you always leave your heat on at least the lowest setting.  Shutting the heat off during the winter could cause the water lines for the fire sprinklers to freeze and burst.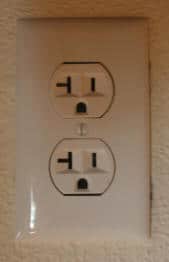 Electrical Connections
Each room features several electrical outlets in the room.  These were all rewired during the renovation for modern usage loads.  The plugs are now grounded three-prong units.  Students often have a lot of electrical items to plug in, which is fine.  We just ask the students practice electrical safety by not overloading the connection, using surge protectors, and monitoring electrical devises.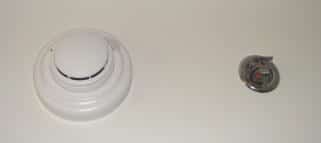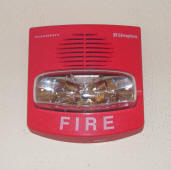 Fire Safety 
Safety is our top priority in Missouri Hall.  Each room has both a smoke detector and a sprinkler system.  Both are wired into the building's fire monitoring system and immediately notify staff of problems.  Please don't remove, abuse, or disable your fire system.  You could injure yourself, the building, or your possession.  The fire system does immediately notify staff of tampering.
In each hallway there are two high-decibel fire alarm horns that sound in the event of a fire emergency.  These units will wake you from bed to signal an evacuation.  It is important and required to leave the building immediately if and when the alarm sounds.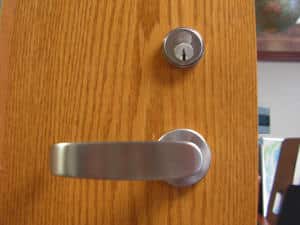 Room Security
You can sleep safe and sound in your Missouri Hall room.   The doors are made of solid wood and are mounted to steel door frames.  The locks and keys are patented specifically for Truman and cannot be duplicated commercially.  The doors automatically lock, and most also have a deadbolt.
Using a doorstop is great while you are in your room, but please make sure your door fully locks when you leave the room.  In nine years (the current hall director's tenure), nothing has been stolen from a secured room in Missouri Hall.