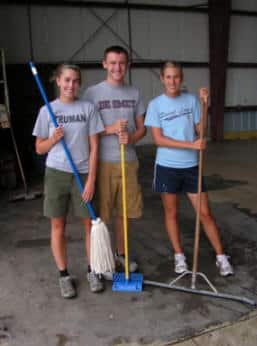 What is a Living Learning Community?
Because learning does not take place exclusively in the classroom, Truman Residence Life offers undergraduate students the opportunity to live in one of our on-campus living-learning communities (LLCs). There are specific communities for first-year students who share common academic goals or interests. Students in these communities live in a residence hall together and participate as a group in various activities revolving around a central theme.  In addition to community building opportunities, residents in LLC also have the opportunity to participate in out of the classroom learning activities such as interactions with faculty, service projects, field trips, speakers and other theme based social events. 
Mission
The mission of Living Learning Communities at Truman State University is to create and extend student learning opportunities outside of the classroom that heighten student intellectual and personal growth. Living Learning Communities are purposeful attempts to integrate curricular and co-curricular experiences that complement and extend classroom learning into the residential environment.  These communities foster faculty, staff and resident interaction and enhance both intellectual and personal growth of the residents.  Each community that is created will be constructed around a specific field of study or area of interest that will determine the program curriculum in that particular community.  LLCs will also provide a meaningful residential environment that is conducive to building a strong, cohesive peer support system.
Location
The new LLCs will be housed in the south wing of the first floor of Blanton/Nason/Brewer Hall.  They will accommodate 22-24 first year students in triple rooms and double rooms that are co-ed by suite. This location is ideal for learning communities because of the close proximity in which the students will live to each other, their Student Advisors and the Hall Director.  The location also provides direct access to the following:
Large, enclosed lounge space used for programming, group discussions and community gatherings
Small, enclosed study room used for small group projects and studying.

Kitchen located within the community