Lending a Helping Hand Around the World

From helping earthquake victims in Nepal to working with drug addicts in Corpus Christi, Texas, Dan Sem is fueled by the desire to make a real difference in the lives of others.
When Dan Sem, a Truman State University alumnus, traveled to south Asia this past May to help out with relief efforts after Nepal was struck by a 7.8-magnitude earthquake on April 25, he found himself caught in another major earthquake.
"I will never forget the fear and panic during the second major quake on May 12 that our team experienced with our Nepali friends," says Sem, who in addition to running a disaster relief organization, owns a business focused on website development and digital marketing and serves as a pastor in an inner-city church in Corpus Christi, Texas.
As the buildings and trees swayed and the sound of structures collapsing in the surrounding neighborhoods broke the eerie silence, Sem and his team watched as some of the Nepalis relived the terror of the major earthquake they had experienced less than three weeks earlier.
The earthquake Sem experienced, which was recorded at a 7.3 magnitude, was strong enough to move Mount Everest more than an inch. Vast numbers of people fled the capital city of Kathmandu leaving the streets almost empty compared to the usual jam-packed bustle of activity. Those who remained generally slept outside of their homes under tarps and in tents, fearful of more quakes collapsing homes.
The day following the second major earthquake, Sem and his team managed to find a courageous Nepali trucker willing to head north near the earthquake's epicenter so they could deliver a much-needed supply of relief goods. Along the way, the group encountered evidence of rockslides previously triggered by the earthquakes. The Nepali and Canadian military had pushed the rocks to the side of the road, but Sem's team discovered that rockslides still posed a concern when at one point their lead vehicle got caught in a small rockslide barely escaping.
Once the team finally reached their destination, a small community in the far north where everyone they met was now homeless, they were greeted by absolute destruction. Providing food, water, shelter and tools to rebuild amongst the most affected and remote communities that they could enter, Sem's team provided just over 22 tons of rice, 250 portable water filtration units, and hundreds of tarps to temporarily shelter people who had lost their homes. In addition, they provided tin sheeting for almost 1,000 families to build longer-lasting structures to weather the impending monsoons.
While in Nepal, Sem had a chance to help the father of a Truman State University student who lives in the far eastern regions of the country. "We were able to provide his village with 50 tarps for temporary shelters and three water filtration units," says Sem. In addition, Sem met up with a Truman student on summer break with her parents in Kathmandu who helped out by delivering a small shipment of bottled water to local tent encampments.
Making the Most of a Wide Range of Skills, Knowledge and Experience
Nepal was not Sem's first experience helping others. After graduating from Truman State University in 2005 with a Bachelor of Arts in communication, Sem was commissioned as an officer in the U.S. Army through Truman's ROTC program.
First assigned to a medical evacuation battalion in South Korea for a year, he was then sent on an 11-month combat deployment to northern Iraq as a medical logistics officer. He spent his remaining years in the military in an infantry brigade as head medical planner, which included a year-long deployment in northern Iraq primarily working with the U.S. State Department provincial reconstruction team coordinating military resources to aid in rebuilding efforts of the Iraqi medical system infrastructure.
After moving to Corpus Christi, Texas, to volunteer at a church ministry, Sem became pastor of the Sovereign Grace Community Church in 2011. He also became a licensed paramedic working 3 ½ years with an emergency response ambulance service responding to 911 calls for the community, while also serving as a medical supply officer and staff supervisor.
After establishing Inbound Horizons Inc., a small business focused on website development and digital marketing, Sem left the EMS job in 2014 so he could dedicate his professional attention to growing the marketing agency. Continuing the ministry demands as a pastor of a growing inner-city church, Sem also directed an international relief ministry he helped create.
In the fall of 2013 when a historic typhoon leveled the far eastern islands of the Philippines, Sem and other members of his church traveled to the disaster area to provide water filters and other relief aid. In the process, Thirsty Ground International (TGI) was formed as a relief ministry through which volunteers and supplies could be organized. Calling on the experience he had garnered as a military officer, a medical logistician and a paramedic, Sem helped establish TGI to provide relief to disaster victims around the world.
Prior to traveling to Nepal, TGI had made two other relief trips into northern Iraq and Turkey amongst the refugees fleeing ISIS this past year. "We were able to see 10,000 blankets distributed amongst Syrian and Iraqi refugees within northern Iraq, conduct medical clinics for hundreds of the displaced war victims, distribute food packs, set up water filters, and bring in a shipping container from the U.S. with several tons of jackets and winter clothing for refugees mostly wintering in abandoned buildings, tarp-covered shacks, and tent encampments," says Sem.
While working with relief efforts, Sem has collected a number of memorable stories including one about a young Yazidi boy living in one of the refugee camps who was close to death because of football-sized tumor on his shoulder. Sem's team adopted his case, and with the help of a Swedish-Kurdish surgeon in Iraq, they were able to eventually acquire the life-saving surgery the boy needed in time to remove the tumor, spare his life, and position him for chemo with a hopeful recovery.
Ways to Help with Disaster Relief Efforts
Having worked with several relief efforts, Sem offers advice on how others can help out in these types of situations. "They can pray for those going to help; they can volunteer their time to join a short-term team going over there, especially if they have medical or logistical experience; and they can contact a reputable organization with an in-country team to find out the actual needs over there and how they could help that organization specifically," says Sem.
Using personal, business or official contacts and connecting them with a relief team so volunteers can conduct their relief work more effectively is another way people can help. While in Nepal, a friend of a Truman student helped Sem and his team connect with Scott Maclemman who coordinated a women's farm. The team brought dozens of demolition and reconstruction tools including shovels, picks, sledge hammers and hacksaws to help the farm and their small village dig out from the rubble.
Of course, one of the fastest and easiest ways to assist with disaster relief is to donate money for the acquisition of relief goods, but Sem advises potential donors to proceed with caution. "I would advise everyone wanting to contribute to disaster relief work to try and find someone who knows the actual organization they desire to help, especially a locally-run organization, and use sound judgment to decide whether they would be a responsible recipient of financial support,"  says Sem.
Pursuing Everything that Matters
In Corpus Christi, Texas, where Sem lives with his wife, Krystal, and their six children, he continues to make a difference in the lives of others. "Helping as a pastor in the inner-city church work in Corpus Christi has allowed us to see God work in the lives of former drug addicts and other people in the community, transforming wasted lives and broken families," says Sem.
Like many other parents, he finds the daily challenges of trying to responsibly parent children as difficult as the various missions he has experienced. "Trying to balance time with these growing and adventurous kids, along with the daily demands of owning a business, pastoring a church and running a relief organization, are an accomplishment I can only credit the help of God with," says Sem.
"As I near the 10-year mark of graduating from Truman State University, I find it remarkable that even though the array of positions I have worked in over this past decade were not directly tied to my major (Journalism), the broad and solid base of liberal arts education I received did indeed help prepare me to handle the wide variety of challenges faced, " says Sem. "I am even more appreciative of the different skills Truman taught me years ago that God has subsequently used over the years to help others through these various missions and ventures."
Dan Sem graduated from Truman State University in 2005 and received a Bachelor of Arts in Communication with a concentration in journalism and minors in Asian Studies and Military Science.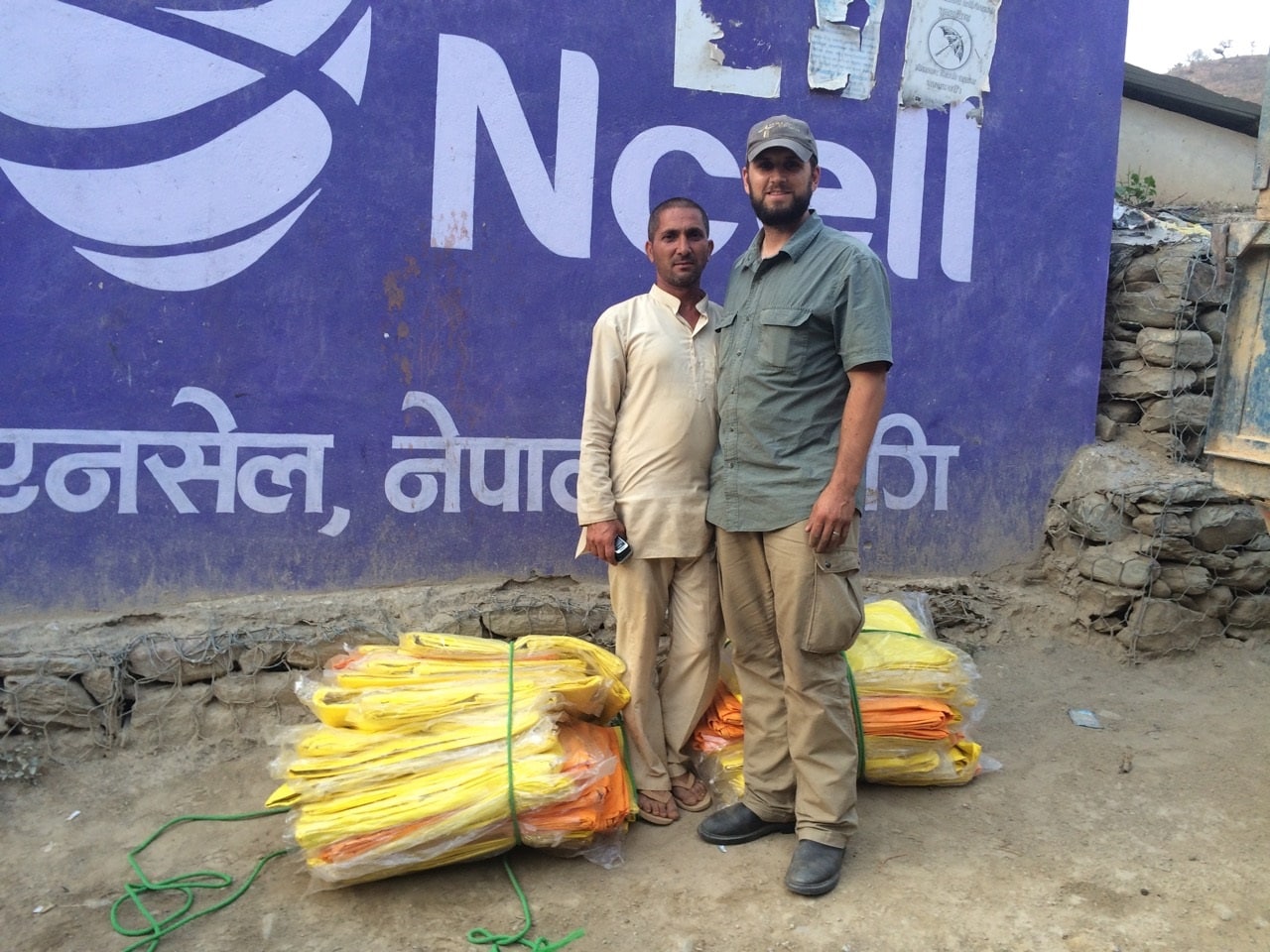 ---
Photos from Dan Sem's trip to Nepal in May 2015
Click on a photo to launch slideshow
---
More alumni stories