Contact Lincoln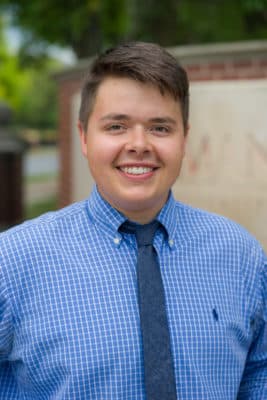 Lincoln McCoy
Job: Regional Admission Counselor
Hometown: Liberty, Missouri
Major: Communication
Territory: Kansas City Area and Southern & Central Missouri
Alma Mater: Truman State University
Email: lmccoy@truman.edu
Phone: 6607854114
Meet Lincoln

What two instruments does Lincoln love to play? Banjo and guitar

What is Lincoln's other performing talent? Improv comedy, which he has done for 7 years, including 2 years professionally in Kansas City

What did Lincoln do before beginning work in Admissions? Traveled Europe for 4 months
Lincoln Outside the Office
About:
BA, Communication – Truman State University
Lincoln graduated from Truman in May 2017 with a degree in Communication, a concentration in Public Communication, and a minor in Film Studies. As a student, he was an active member of Beta Theta Pi (national Greek fraternity), Tag improvisation (local comedy improvisation troupe), Truman's film club (local club), and worked a Greek Life Intern.
In July 2018, Lincoln began working in Truman's Office of Admission as an admission counselor. He is regionally based in Kansas City, Missouri, and visits high schools and attends college fairs in the area.
Lincoln is originally from Liberty, Missouri and attended Liberty North High School. Outside of the office, Lincoln can be found front porch sitting while plucking on the banjo or guitar. If you can't find him doing that, then you may find him spending time with friends and family, playing a mean game of bogey golf, or unsuccessfully fishing for catfish.