When you pursue a Spanish Major, Spanish Minor, or Spanish Minor for the Professions at Truman, your studies will build on the three pillars of language, literature and civilization. With a Spanish Major, you can also pursue teaching certification through the Master of Arts in Education.
Innovative Classes
Study the Spanish language at any level — elementary, intermediate, and advanced. Advanced courses in literature, conversation, translation, medical Spanish, business Spanish, linguistics, cinema, and civilization naturally cross over into your liberal arts studies at Truman to satisfy your intellectual curiosity.
Our low 16:1 faculty-to-student ratio means you'll get the personal attention you need to succeed. Experienced faculty — not grad students — teach all of your classes, and tutoring is available when you need it.
Immerse Yourself 
Hone your skills in a Spanish-speaking country by joining one of our many study-abroad programs – whether over the summer, for a semester, or for an entire academic year. Join one of our annual faculty-led trips to Costa Rica, Mexico and Spain in the summer. Our students also regularly live and study in many other countries such as Argentina, Chile, Colombia, Dominican Republic, Ecuador, Guatemala, Nicaragua, and Uruguay. See the
Center for International Study Abroad Study Abroad
for more information.
Or speak Spanish every day without leaving Kirksville by living in the Romance Language House of Missouri Hall — a semi-immersion living option. You'll be paired up with a like-minded roommate at approximately the same skill level for daily practice.
You can also join student organizations such as the Club Ñ, Sigma Delta Pi (the National Collegiate Hispanic Honor Society), United Speakers service group, and HALO, the Hispanic student organization. You can participate in off-campus immersion weekends, weekly conversation tables, student-led theater productions, Spanish film series, visiting speaker events and Latino dance nights.
Choose from Two Spanish Minors
Supplement your skills in another major by adding one of two Spanish Minors to your degree:
Spanish Minor: In addition to grammar, composition, conversation, and an introduction to literature, choose your own mix of courses at the third year level in literature, linguistics, translation, culture and civilization.
Spanish Minor for the Professions: In addition to grammar, composition and conversation, take either Spanish for the Health Professions or Spanish for Business and choose your own mix of third year level courses such as Hispanics in the US, translation, phonetics and phonology, Practicum for the Professions, culture and civilization, and more.
Preparing for Lives That Matter
As a Spanish Major at Truman, you'll be well-positioned to compete for top grad schools or further your career in fields such as education, medicine, law, government, philanthropy, and the private sector.
Our graduates have gone on to study education, law, medicine, Spanish literature and linguistics, and Spanish translation and interpretation at graduate schools such as:
NYU Madrid Campus
Georgetown University
University of Colorado-Boulder
University of Connecticut
Kansas State University
Monterey Institute of International Studies
Pennsylvania State University
Yale University
University of Kansas
University of Kentucky
University of Missouri
University of North Carolina-Chapel Hill
University of Texas-Austin
Washington University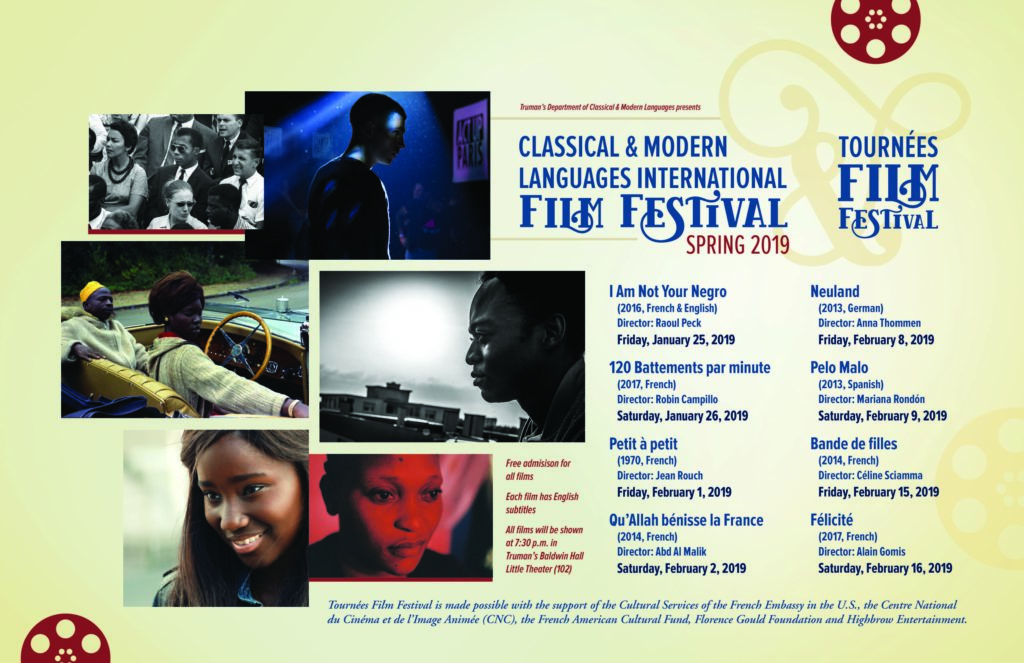 International Film Festival & Tournées Film Festival in Kirksville (Spring 2019)
December 10, 2018
Truman State University's Department of Classical and Modern Languages' (CML) annual film festival is featuring films that discuss the topics of race and diversity. The festival will begin on Friday, January 25 and will continue for the next four weekends with one movie being shown each Friday and Saturday until February 16.  All of the […]
December 10, 2018
Starting in the Spring semester of 2019 Truman's French program will be offering an internship position to one French student who is a major or a minor. The goal of this internship will be to plan and organize a summer internship program in Toulouse, France for French students. Under the guidance of Dr. Viguier, the […]