Owyhee Archaeological Field School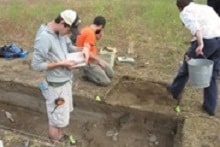 Tyler Retherford '11 attended the Owyhee Archaeological Field School (Washington State University) in the Summer of 2010 in southeast Oregon while he spent six weeks excavating with a few days of survey as well.
While excavating a prehistoric occupation site, the group found a wide variety of stone tools, some animal bones, and a few features. In addition to digging, Tyler learned how to take proper field notes, use a transit measuring device, and do basic lab sorting and classifying of artifacts.
Tyler writes, "I not only learned tons about what archaeological field work actually is, but also developed specific interests within the broader field which helped me decide on, and get into, WSU's graduate program. I'd strongly recommend attending an archaeological field school to anyone who is curious about if archeology is for them