Archaeological Field School Near North Rim of Grand Canyon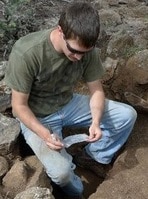 John Topi '11 attended an archaeological field school near the North rim of the Grand Canyon. The excavation of two nearly contemporaneous Anasazi pueblos, dating to around 1100 A.D., was operated by the University of Nevada-Las Vegas. During the six weeks in conducting excavations, John learned a lot about field methods.
Throughout the dig, each student had the chance to learn and practice aspects such as:
site-mapping
recording
cleaning and analyzing artifacts
digging methods
geological identification
Short learning sessions with visiting professors also enabled the students to experience a short, crash-course in flint-knapping, use-wear analysis and experimental archaeology.
"The experience was awesome and helped pique my interest in archaeology," said John. "I recommend attending a field school to any student seriously interested in the field of archaeology."
PHOTO: John is pictured holding the remains of an unearthed rodent in a partially-excavated storage pit.