As a Russian Major or Minor, you'll be studying one of the top-10 high-frequency languages of the world — one of the six official languages of the United Nations — spoken by the largest ethnic group in Europe.
A Broad-based Understanding
Thanks to Truman's liberal arts emphasis, your studies will expose you to the arts, literature, language and culture of Russia for a complete understanding of the language.
Upon graduation, Russian majors can communicate with native speakers of Russian, possess a critical appreciation of Russian literature, and are well versed in Russian cultural history.  This major prepares you to enter the most competitive U.S. graduate programs.
Study Abroad
Total immersion remains the most effective technique for mastering a language. So you'll want to take advantage of our intensive Russian courses in Moscow during both the regular and summer sessions.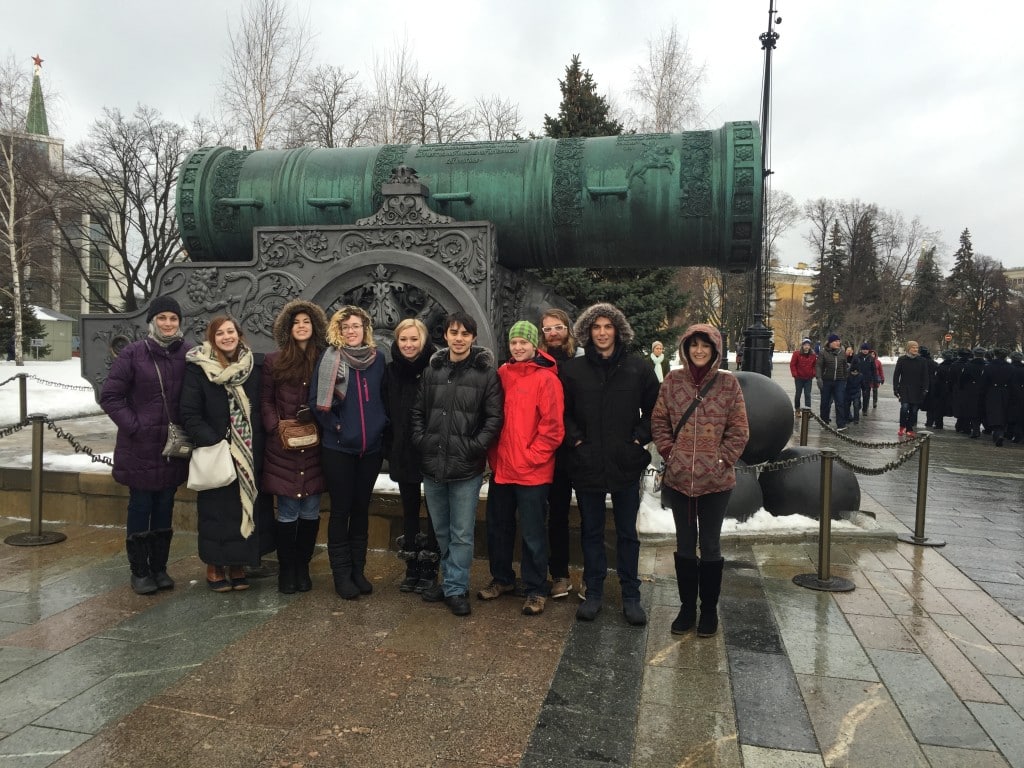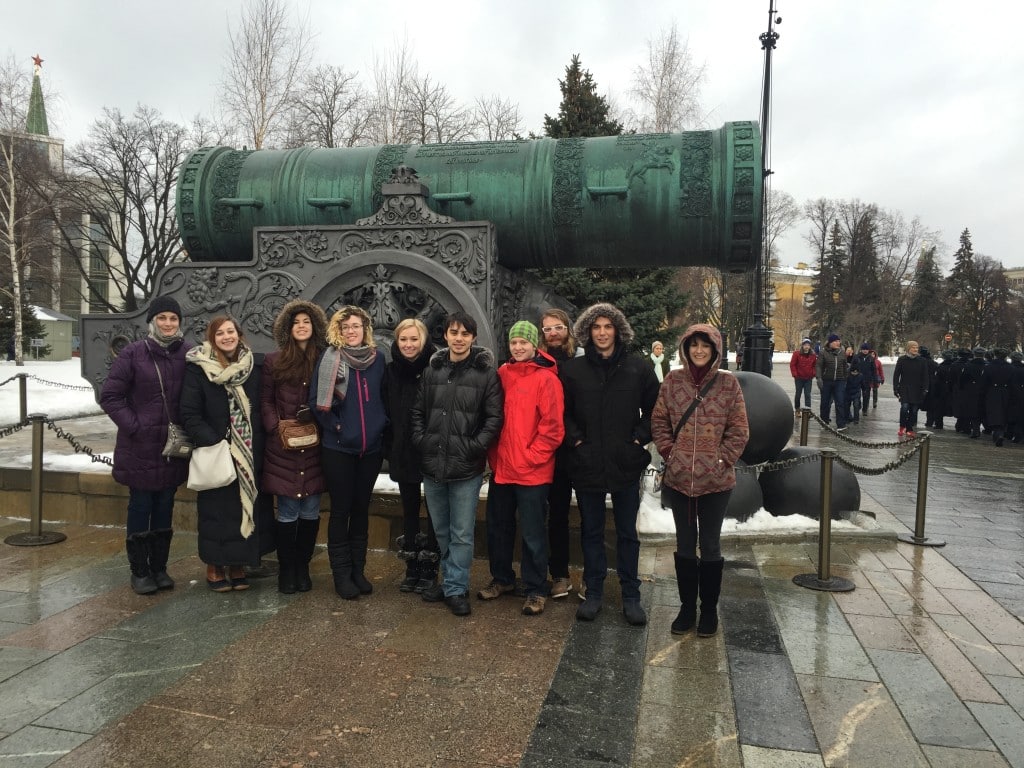 Truman State University Russian majors Caitlyn Priese (last on the left), Madison Elmore (last on the right) and Darth Takamiya (5th from right) during their Spring 2016 semester in Moscow, Russia, on Truman's program of intensive Russian language & culture, at the GRINT Center for Education & Culture on the campus of the Moscow University for the Humanities.
Our Graduates Succeed
Some of our recent graduates have gone on to:
Fulbright English Teaching Assistantships in Russia, Bulgaria or Georgia
Teach English as a Second Language (ESL) abroad
Graduate school Master's and PhD programs
Careers in business, translation, and international relations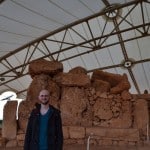 Shawn Bodden graduated from Truman with Russian, English & Linguistics majors in 2013. He spent 2013-2014 in the country of Georgia as a Fulbright English Teaching Assistant. He is currently a student in "International Master in Russian, Central & East European Studies", an Erasmusmundus Masters Course, sponsored by a Consortium of 6 European and 5 non-European universities. He is spending his first year in the program at the University of Glasgow.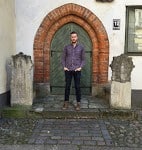 Andrew Swafford graduated from Truman with a Russian major in 2014. He spent 2014-2015 in Voronezh, Russia, as a Fulbright English Teaching Assistant. He is currently enrolled in a Master's program in Semiotics at the University of Tartu, Estonia.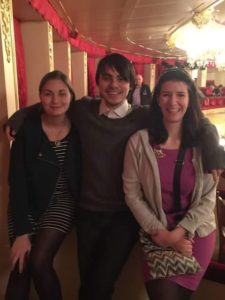 Truman Russian majors enjoy the Bolshoi Ballet in Moscow, Spring 2016
Abigail Temple, graduated 2009 (French major and studied Russian language); received a Fulbright Teaching Assistantship to Omsk State Pedagogical University in Russia for 2010-2011; completed a M.A. in French Linguistics at UT Austin in 2013, and has been teaching ESL to Russian students through Webilang, an online English school in Omsk, Russia.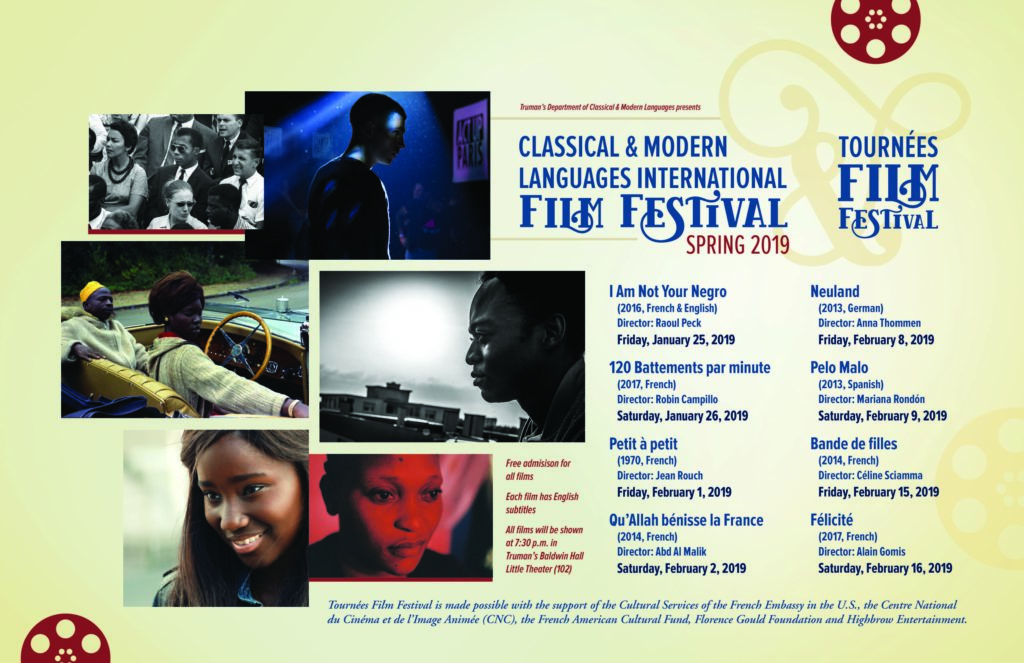 International Film Festival & Tournées Film Festival in Kirksville (Spring 2019)
December 10, 2018
Truman State University's Department of Classical and Modern Languages' (CML) annual film festival is featuring films that discuss the topics of race and diversity. The festival will begin on Friday, January 25 and will continue for the next four weekends with one movie being shown each Friday and Saturday until February 16.  All of the […]
December 10, 2018
Starting in the Spring semester of 2019 Truman's French program will be offering an internship position to one French student who is a major or a minor. The goal of this internship will be to plan and organize a summer internship program in Toulouse, France for French students. Under the guidance of Dr. Viguier, the […]