Recent events in the life of Theta Alpha Kappa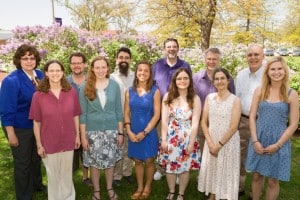 May 2014 TAK induction ceremony
Truman's chapter of Theta Alpha Kappa (TAK), national honor society for religious studies, inducted three new members, Jessica Foster, Elizabeth, Salsich, and Mary Williams, at a special reception held last May. Also honored at this reception was Joelle Axton who received this year's TAK Undergraduate Achievement Award.
Pictured along with PHRE faculty members are…
Back Row: SSCS Dean, Elizabeth Clark, Dr. Dereck Daschke, Dr. Evan Williams, Dr. Mike Ashcraft, Dr. David Murphy, and TAK Moderator, Dr. Mark Appold.
Front row: Dr. Jennifer Jesse; students: Joelle Axton, Elizabeth Salsich, Jessica Foster, Dr. Pat Burton, and student Mary Williams.
---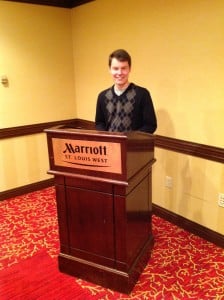 Truman TAK inductee wins award for Society of Biblical Literature talk
Ben Batzer, currently a Truman graduate student completing requirements for a Masters in English, had been inducted in 2012 into Truman's chapter of Theta Alpha Kappa. During Spring 2014 he was the only Truman student to have his paper accepted for presentation in the TAK student section of the regional St. Louis meeting of the Society of Biblical Literature (SBL), which at the national level has a membership of some 8,500 scholars in biblical studies. Batzer's paper, entitled "Is Symbolic Israel Really Problematic? Distinguishing Metaphor and Symbol as Figurative Language" received a book award and honorable mention.