VIDEO: Liberal Arts —Jazz for the Mind
Jacob England and Lauren Chapman riff on the surprising way they applied liberal arts principles during their teaching internships.
VIDEO: Directing His Own Big Band
Joel Gordon organized and conducts his own Kansas City big band — the Trouble Clefs — while on breaks from pursuing a music major at Truman State University.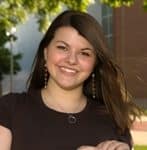 The diversity of the students at Truman definitely surprised me. We're in a small town in northeast Missouri, but there are students from all over the world here.