Low Brass Studio
Justin Bartz is a GTRA (graduate assistant) in the trombone studio. He is pursuing an MA in trombone performance as well as an MAE in music education. Justin graduated from Truman State University in May 2013 with a BA in music and enjoyed performing in several university ensembles, including the Wind Symphony, Symphony Orchestra, and others. Justin's proudest musical achievement is marching with the Carolina Crown Drum and Bugle Corps during the summers of 2010, 2011, and 2012. Additionally, Justin is on staff as a baritone tech with the Colts Drum and Bugle Corps.
Casey Dillon is a third-year music education major from Fenton, Mo., where she performed in the St. Louis All-Suburban Band for two years and received superior ratings at district and state small ensemble festivals. At Truman, she performs with the Wind Symphony and jazz bands as well as in smaller ensembles. Over the summers, she plays with the Original Knights of Swing. Her hobbies include music, reading, puppies, and lacrosse.
Jeff Duffy is a senior music education major. He has participated in the Truman State Jazz Ensemble, Orchestra, Wind Symphony I, and the Statesmen Marching Band. Last summer, Jeff marched with the Blue Coats Drum and Bugle Corps. Jeff is the president of Truman's chapter of Phi Mu Alpha. Jeff is also the vice president of the University Swingers, and he enjoys swing dancing.
Nicholas Foland is a second-year music education major from Fayette, Mo. Nicholas played for Fayette High School for four years and now plays for the Concert and Marching Bands at Truman. His hobbies include composing music, running, and socializing.
Nicholas Gragg is a sophomore music performance major from Ozark, Mo. He was in the Missouri All-State program three times and received numerous superior ratings in solo and small ensemble competitions. Nicholas performs in several Truman ensembles, including Wind Symphony, Orchestra, Jazz Band, Trombone Choir, Marching Band, and several more. As well as playing, he enjoys composing for trombone ensembles.
Kyle Krull is a third-year physics/pre-engineering major from O'Fallon, Mo. Kyle was a two-time All-District and All-State Honorable Mention Band member and received the John Phillip Sousa Award his senior year of high school. He currently performs in the Wind Symphony and a trombone quartet at Truman.
Austin Motley is a second-year music education major from Kirksville, Mo. He was a member of the Missouri All-State Band all four years of high school and received superior ratings at District and State contest. Austin is a member of the Truman Wind Symphony, Statesmen Marching Band, Brass Choir, and Jazz Ensemble.
Andy Overmann is a sophomore music education major at Truman. As a community member of his hometown, Cape Girardeau, Mo., he has participated in countless school band and marching band concerts for his high school. Throughout his high school career, he received numerous superior ratings as a soloists and ensemble member and was selected to participate in the All-State Band as a senior. In his free time, Andy enjoys reading, cooking, and fitness.
Miranda Shwadlenak is a Master of Arts in Education student from Barry, Ill. In high school, she was a drum major, section leader, and co-captain of the jazz band. She is a member of the Truman State University Wind Symphony and Jazz Ensemble. In the fall of 2014, she will be attending graduate school at Truman to pursue a Master of Arts in Education. Miranda enjoys baking, knitting, and swing dancing in her spare time.
Brandon Spratt is a fifth-year senior from Columbia, Mo., pursuing a biology major and music minor. He will be graduating in May, and he enjoys making music and participating in music ensembles. In addition, he has a deep interest for the Nepalese community and culture.
Gabe Warren is a third-year music education student from Moberly, Mo, where he performed in the All-District Bands and Choir and the All-State Choir and received superior ratings at District and State contest. Gabe is a member of the Wind Symphony, Cantoria, and the Statesmen Marching Band, where he currently serves as a Drum Major. His hobbies include tennis, ping pong, arranging music, and hanging out with friends
Alumni
Kevin Heiland is pursuing a Master's degree at the Frost School of Music in Miami (University of Miami).
Jennifer Hinkle is bass trombonist of the Tacoma (Washington) Symphony and the Spokane Symphony and is a busy freelance musician in the Seattle area. She is also lecturer in trombone at the Cornish Institute of the Arts. Following completion of a Master's of Music in trombone from Eastman School of Music and a Bachelor of Arts in Linguistics at Truman, bass trombonist
Katie Cox is pursuing an interdisciplinary doctoral program at the University of North Carolina-Greensboro.
Michael Duncan recently got married or is engaged.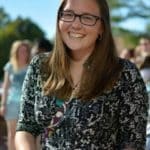 Everyone is so friendly and helpful! I know that when I have concerns, the professors will take time to talk with me and find what they can do to help me in my pursuit in music.