As a justice systems major at Truman, you discover how to navigate the components that make up the justice systems while learning the basics of criminal justice: law enforcement, criminal law and the courts, corrections, and criminology.
In addition to the Bachelor of Science degree in justice systems, Truman offers a justice systems minor and a forensic science minor.
Supportive Learning Environment
With our small classes, you develop strong relationships with your peers and get to know your professors — your future guides and mentors. Truman provides the perfect setting to hone your critical-thinking, problem-solving, writing and presentation skills as you pursue the more interesting questions. The Truman experience allows you to reach for the horizon as you dream, plan, and adapt so you can invent your future.
Criminal Justice Careers
As a criminal justice major, you build a strong foundation for employment in fields such as juvenile justice, probation or parole, social work law enforcement, as well as preparation for further study in graduate or law schools.
News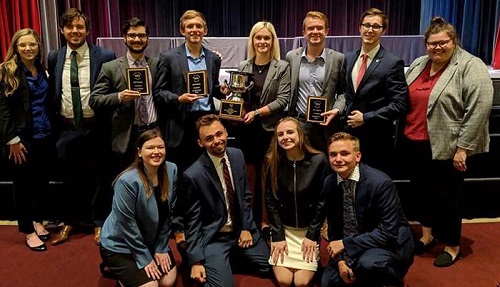 Forensics Team Among Best in Nation
May 1, 2019
Among more than 90 schools competing in both speech and debate activities at the National Forensic Association Championship hosted in the Santa Ana, Calif., School District, the Truman forensic union placed third in the Lincoln-Douglas debate. Twelve students traveled to the competition, and three Truman's debaters placed among the top 16 in the nation. Senior Tyler … Read More →
February 28, 2019
In late November, Dr. Meg Edwards led 25 students from her Model United Nations course to participate in the American Model United Nations (AMUN) Conference in Chicago, Ill. Truman students represented Bhutan and Ethiopia in the four-day conference, alongside approximately 1,500 participants from 97 universities. Truman State University was recognized with an Outstanding Delegation Award … Read More →
Events