French is your gateway to exciting opportunities, and Truman's French major, French Minor, French minor in Translation, and French minor for the Professions will prepare you to pursue multiple career paths.  You'll develop your French proficiency and gain in-depth knowledge of French civilization and French and francophone literature. With a French major, you can also pursue teaching certification through the Master of Arts in Education.
Rigorous and Innovative Classes
Take advantage of our wide-range of courses, from elementary through advanced language study, and upper-level classes in French and Francophone Literature, French Civilization, French Translation and French for international Business.
Related courses in art, mythology, literature, history, geography, politics, or philosophy naturally cross over into French studies – it's what the Liberal Arts are all about.
Our low 16:1 faculty-to-student ratio means you'll get the personal attention you need to succeed.   Professors – not grad students – teach all of your classes, and tutoring is available when you need it.
Immerse Yourself in French
Faire du theatre!
Dr. Patrick Lobert, our metteur-en-scène par excellence offers you the opportunity to bring French theatre to the Truman community.  Whether you want to be on stage or work behind the scenes, there's a place for you in Dr. Lobert's productions.
Learn by Teaching!
Many of our advanced students serve as Peer Teachers.  Under the guidance of a faculty mentor, they conduct small group sessions with students in 1st and 2nd year language classes.
Turn on Your French!  
Take part in the annual French Immersion Weekend.  Offered off-campus at Camp Jo-Ota, enjoy outdoor games and activities in French and before the weekend is over, you'll be thinking in French. You might also want to consider living in the Romance Language House, where there are often other French speakers eager to use their growing skills.
Study Abroad!
Of course, you'll also want to hone your French by participating in one of our study abroad programs – whether for the summer, for a semester, or for an entire academic year. See the Center for International Education for more information.
Want to teach English in France?  Many of our graduates spend an academic year in France through TAPIF – the Teaching Assistant Program in France. As an English TA, you'll assist the English teachers in a French public school, receive a monthly stipend, and relish your experience of French culture from the inside.
Preparing for Lives That Matter
Your French knowledge and skills will springboard you into a host of professional career choices, from entry-level positions with multinational companies to admission to top grad schools.  Choices include:
Truman's MAE-Foreign Language Program (ESL add-on certification available)
Linguistics & Applied Linguistics
Translation
Journalism
International Relations
International Business and Accounting
Law School
Government Work
Peace Corps & NGOs
Doctoral Programs in French Studies
French companies have created more than 550,000 jobs for Americans, and US companies employ more than 750,000  people in France.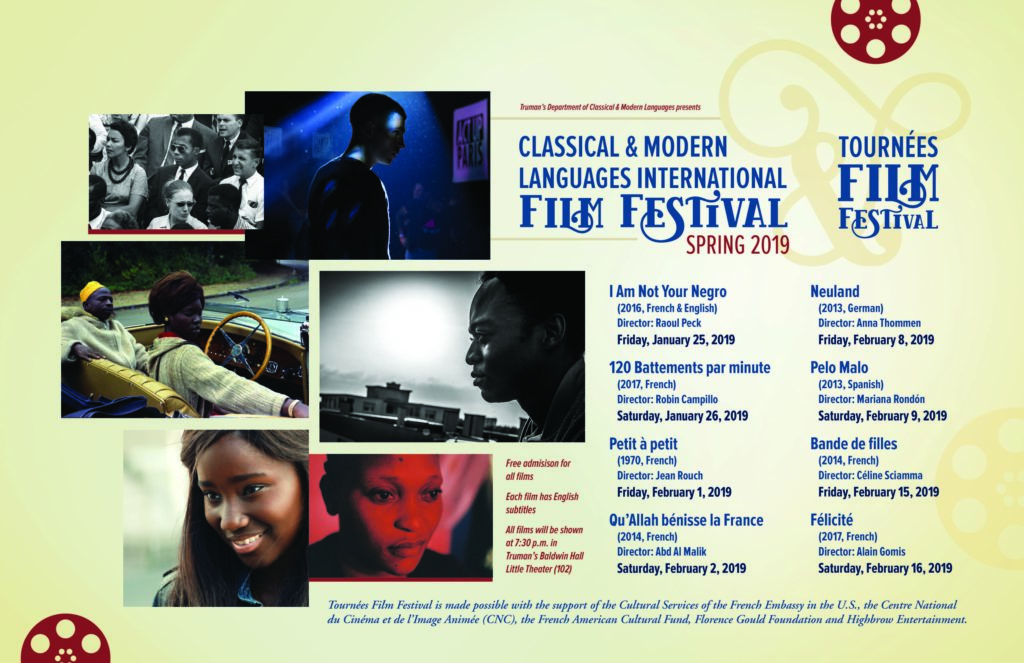 International Film Festival & Tournées Film Festival in Kirksville (Spring 2019)
December 10, 2018
Truman State University's Department of Classical and Modern Languages' (CML) annual film festival is featuring films that discuss the topics of race and diversity. The festival will begin on Friday, January 25 and will continue for the next four weekends with one movie being shown each Friday and Saturday until February 16.  All of the […]
December 10, 2018
Starting in the Spring semester of 2019 Truman's French program will be offering an internship position to one French student who is a major or a minor. The goal of this internship will be to plan and organize a summer internship program in Toulouse, France for French students. Under the guidance of Dr. Viguier, the […]