The athletic training rooms at Truman serve two functions:
health care for the University's student-athletes
laboratory for clinical practice and active learning
Both rooms have various therapeutic modalities (muscle stimulation, ultrasound, iontophoresis), emergency and first-aid equipment (sphygmomanometer, AED, spineboard, vacuum splints) and rehabilitation equipment (Biodex, BAPS board, thera-tubing, cuff weights, mini-trampoline).
Health Sciences Building Athletic Training Room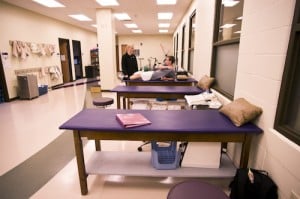 Located on the first floor of the Health Sciences Building, this athletic training room has convenient access to Pershing Arena and the natatorium. It also has direct access to the football field and track. The Health Sciences athletic training room provides an excellent space for providing care and prevention for Truman athletes.  It also serves as a tremendous venue for students to learn and practice athletic training skills.
This facility contains a large area for rehabilitation room with a variety of rehabilitation equipment.  A glass enclosed hydrotherapy room houses several therapeutic whirlpools.  The main room contains 8 taping stations and a large area for treatment.  The treatment space includes machines such as: muscle stimulation, intermittent compression, ultrasound, heat packs and shortwave diathermy.  Additional spaces include offices for the athletic training faculty and staff, and a physician's room for private examination and discussion.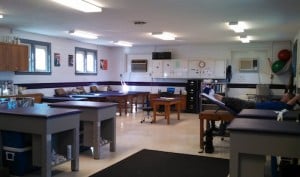 Bulldog Kennels Athletic Training Room
The Kennels athletic training room is in the Bulldog Kennels building at the northwest corner of Stokes Stadium. This athletic training room typically provides services athletes using the outdoor track and the football fields. It also serves as a lab for athletic training students.
The Kennels athletic training room contains ample space for taping and other injury prevention techniques. The rehabilitation area contains equipment for improving strength, balance, and flexibility. The treatment space provides a variety of therapeutic modalities used to speed healing and reduce pain.