Lauren: The Benefits of Acquiring Broader Perspectives

Originally coming to college to pursue a career teaching biology in the classroom setting, Lauren's interests have developed during her time at Truman thanks to meaningful learning experiences. After learning about how to think about education from other perspectives, her interests in teaching biology now lie with outdoor education.
Read more
Jacob, Lauren and Mary: Liberal Arts Education Creates Endless Opportunities

In this video, three Truman students — each pursuing a passion for teaching — share how the Master of Arts in Education program at Truman has played a part in shaping both their lives and careers. Lauren Chapman started out as an undeclared major. Jacob England knew he wanted to be a teacher when he started college. And a conversation with a professor helped Mary Carnes confirm that teaching was the perfect career for her. Hear how all three used hands-on learning opportunities to enhance their professional skills.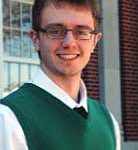 The MAE program inspires me to explore education through immersive experiences. The instructors constantly encourage me to contemplate and construct my own philosophy of education, and then urge me to apply it in diverse and challenging situations.