Master of Arts in Education: Specialty Area Requirements for Secondary Social Science/History Education
Hold a bachelor's degree in history or a social science discipline (history degree preferred, or at least a range of history coursework if the degree is in another discipline).
Strongly prefer a minimum overall GPA of 3.0 in all coursework.
Require a minimum 3.0 GPA in the major.
Require that at least one of the three letters of reference in the application be from a professor in the student's major who can speak to the candidate's ability to succeed in graduate level history courses.  Other letters should reflect specifically on either the candidate's academic strengths or the candidate's potential to provide a positive influence on young people in a classroom setting.
Evidence (as displayed in the personal statement, letters of reference, and the candidate's experiences) of the ability to work effectively with high school students.
Candidates must demonstrate the knowledge, skills, and disposition for teaching.
Social Science/History Education Faculty:
---
GPA Sheet—Social Science Education
Current as of 1 July 2018
Please see your Education advisor each semester to ensure smooth processing through the program.
Students being certified to teach in Missouri must have a 2.75 or higher GPA overall, a 3.0 GPA or higher in their content area, and a 3.0 GPA or higher in professional classes (mostly education classes).  This GPA sheet was crafted to help students keep track of these three GPA calculations, as well as to aid with advisement and enrollment.  If students have any questions about their GPA, they should meet with their specialty area advisor.GPA Chart Music Instrumental GPA Chart Music Vocal GPA Chart Physical Ed GPA Chart Social Science
Download GPA Sheet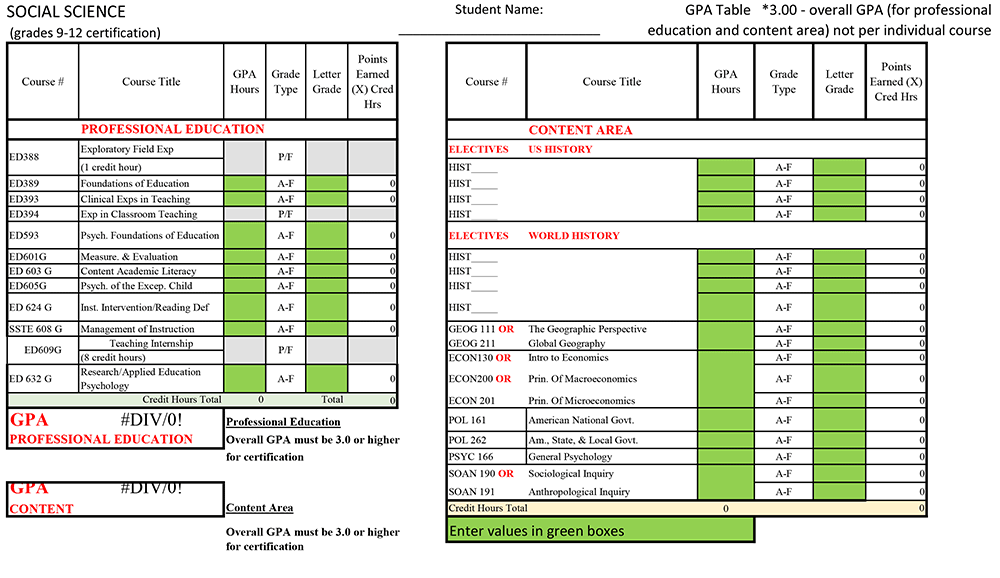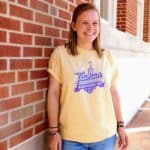 I initially chose to come to Truman because I was impressed with the numbers that compared well with other universities: average test scores, retention rates, job placements, rankings, degree programs, etc. I knew these statistics would provide me with a solid foundation of a well-rounded college education, and I was confident in my college choice. After arriving at Truman my freshman year, though, I realized that Truman has so much more to offer beyond our impressive statistics. We have a student body filled with individuals who inspire and motivate their peers, and a campus community that fosters life-long learning.