Master of Arts in Education: Specialty Area Requirements for Exercise Science Education
(Specialty Area Requirements in addition to the MAE requirements of three letters of recommendation.)
Applicants must have a minimum 3.0 GPA in 15-hour specialty track courses within the Bachelor of Science major.
Personal statement should address motivation to become a physical educator and related current experiences.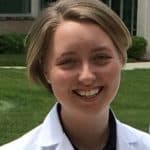 Majoring in Exercise Science at Truman was the best decision I could have made in preparing for my graduate studies and career in physical therapy.  The curriculum established a solid foundation in kinesiology, nutrition, anatomy and physiology to prepare me for rigorous work in graduate school; the compassionate and knowledgeable faculty rounded out the optimal learning experience.