Academic Support Services
Academic Support Services
As a Truman student, you're fully immersed in a quest for knowledge and self-improvement. Our academic support services fuel your success through personalized advising, career services, tutoring, disability services, a writing center, and more.
Academic Advising
The Center for Academic Excellence provides a wide range of services to help you make a smooth transition into college life. Your advisor can help you explore majors, create a plan to match your interests and life goals, develop class schedules and much more.
Career Services
It's never too early to use the Career Center. From exploring different majors to developing a career plan, the Career Center has resources and services to help you succeed.
Disability Services
Student Access and Disability Services provides students with disabilities the services necessary to participate in all aspects of University life, including interpreter and note-taking assistance, Braille translations, audio recordings of course materials, orientation assistance, van accessibility for field trips, campus housing accommodations, and more.
Diversity Resources
In addition to providing social, cultural, and personal support for underrepresented students, the Center for Diversity and Inclusion provides academic assistance through the Scholastic Enhancement Experience (SEE) Program and Peer Mentor Program, tutoring, and a monitored study area.
Foreign Language Learning Center
The Foreign Language Learning Center helps you learn and practice another language. Peer learning labs give students enrolled in elementary or intermediate levels of foreign language courses a chance to study with an upper-class student or a native speaker.
International Students Resources
Working closely with international students from recruitment to graduation, the Center for International Students offers services designed to empower students from other countries to achieve their full potential at Truman.
Library Services/Resources
When you have a research project, you can meet with a reference librarian in Pickler Memorial Library to plan how to best approach your project. They can also provide customized assistance on databases and research techniques for specific assignments. Outfitted with the latest technology, the Multimedia Lab is open to all students providing a space where you can collaborate on group projects, record podcasts, narrate videos, edit movie clips, recreate green screen videos, and much more.
Math Tutoring
The Mathematics and Statistics Departments offer year-round tutoring services Monday through Friday if you need assistance in your math courses.
Research Involvement
Research is an important part of your undergraduate experience at Truman, and in some majors, you can receive academic credit for conducting research. The Office of Student Research can help you explore different venues for research involvement. Truman students have published their research findings in national journals, presented at professional conferences, and participated in Truman's annual Student Research Conference.
Tutoring
The Center for Academic Excellence has a team of dedicated tutors on hand who provide free tutoring to enhance your academic success.
Writing Center
Offering services from the beginner level to advanced, the Writing Center helps you refine your writing skills by providing counsel on strategy, technique, conceptualizing, drafting, revising, and editing.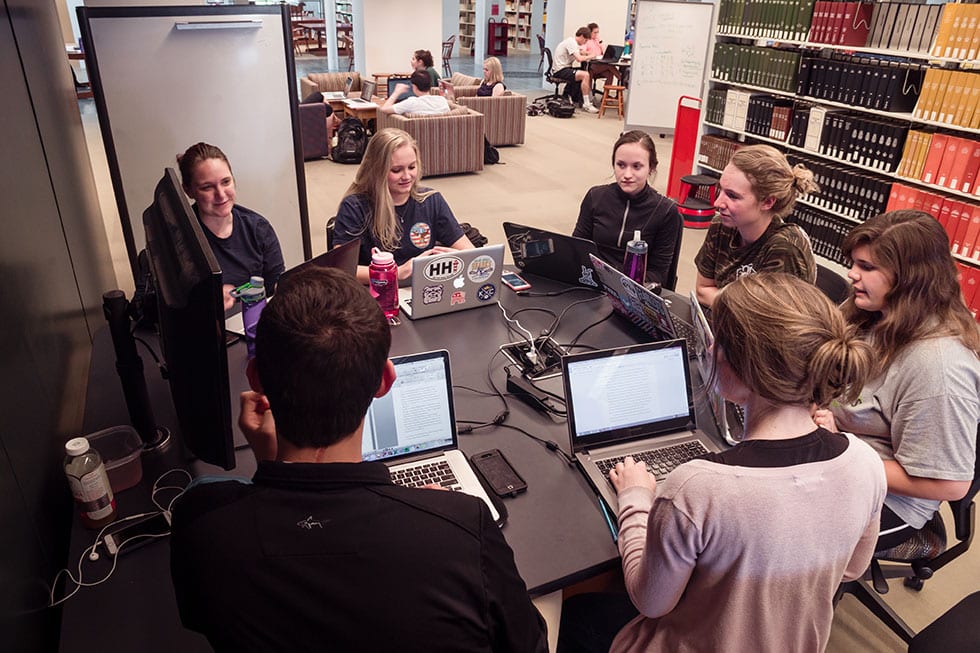 "Truman has an amazing community and staff that are all there to help you succeed."
Krista Garth
Class of 2022