Funded in part through generous gifts by our alumni and friends, the School of Arts and Letters' Alumni Visit Program is designed to enhance interaction between our alumni, students, and faculty.  Hosted and organized by one or more members of the Arts and Letters faculty, each visit also includes at least one public presentation. Some of our alumni guests have included:
Angela Carter (BA in English, Truman State University, 2009)

Hosted by the Office of Interdisciplinary Studies, Women and Gender Studies, Disability Studies, McNair Program, Women's Resource Centre, and the Department of English and Linguistics
Angela Carter, Truman alumna and PhD candidate in Feminist and Disabilities Studies at the University of Minnesota, visited campus and gave a presentation to a very full Alumni Room on the topic of "Bodies that Matter." The presentation introduced disability as a central component in feminist intersectional analysis and as a social justice issue, explored history of disability and feminist movements, and offered concrete ways that we can work toward disability justice in our everyday lives–including ways to be an ally to disabled communities.  While a student at Truman, Angela was director of the Women's Resource Center, a McNair Scholar, and the English and Linguistics Outstanding BA Student of the Year.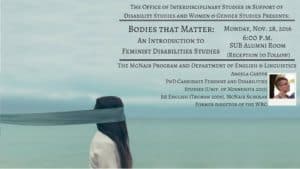 Doug Reside (BA in English and Computer Science, Truman State University, 2001; MA in English, 2003)
Hosted by Dr. Adam Davis (Department of English and Linguistics)
Doug Reside, the Digital Curator for the Performing Arts at the New York Public Library, returned to campus during the Spring 2017 semester to serve as the Senior Seminar Conference Keynote Speaker for the Department of English and Linguistics. While on campus, he presented two talks ("The Tale of the Ant-Lion: A Digital Humanities Adventure" and "How Do You Catch a Cloud and Pin it Down? Preserving Musical Theatre in the Digital Age"), met with students, and visited classes.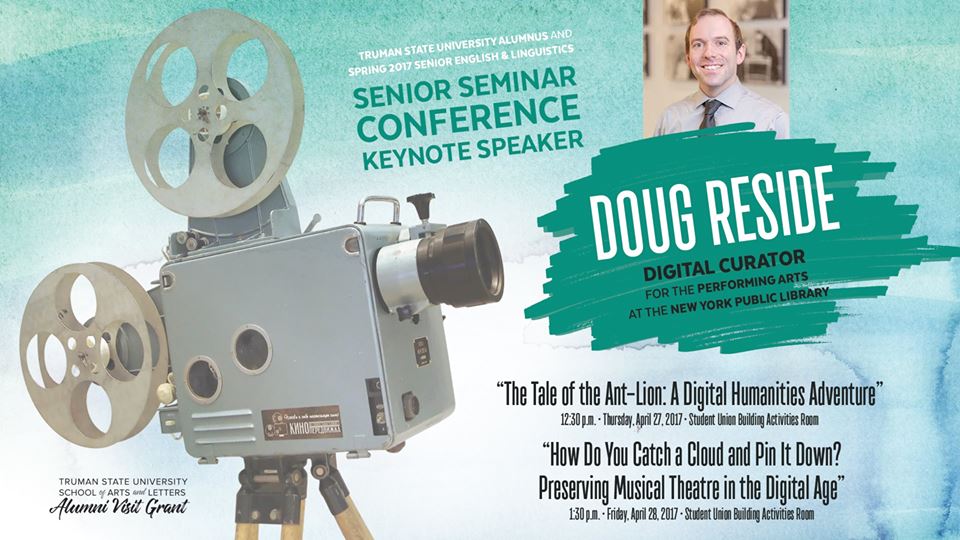 Michael Huey (BA in Theatre and Music, Truman State University, 2009)
Hosted by the Theatre Department
While on campus during the Spring 2017 semester, Michael Huey visited theatre classes, rehearsals, met with students and faculty, and provided a presentation about composing professionally while describing various projects he has worked on as a composer. Based in Chicago, Ill., Michael has composed music and designed sound for numerous theatrical productions, as well as film and television advertisements. He has worked with Steppenwolf, Chicago Shakespeare, Lookingglass, Adventure Stage, North Park University, The Strange Tree Group, Sideshow, and he has worked on several shows that have since gone to Broadway and beyond. He received a Jeff Award nomination for best original score for the production of The Spirit Play in 2012, composed the music for the Lance Henriksen film Dark Awakening in Los Angeles in 2015, and has worked with American Girl, providing music and sounds for installations in New York, Chicago, and Los Angeles.[/column] [/row]
Dr. Jasmine Cloud (BA in Art History, Truman State University; MA in Art History, University of Colorado; PhD, Temple University) Hosted by Dr. Julia DeLancey, Department of Art
Dr. Jasmine Cloud is an Assistant Professor of Art History at the University of Central Missouri. During her return to Truman in the Spring 2017 semester, Dr. Cloud taught a class for ART 332 Baroque Art on her dissertation research on seventeenth-century adaptations to the Roman Forum, met with Art History students, gave a well-attended public lecture entitled "Taking Possession of the City: Papal Ceremony and Urbanism in the Early Modern Forum," and met with a variety of Truman faculty members. She also met with a class on Historical Methods about her research and applying to graduate school. PHOTO: Dr. Jasmine Cloud (on far right) with Truman students.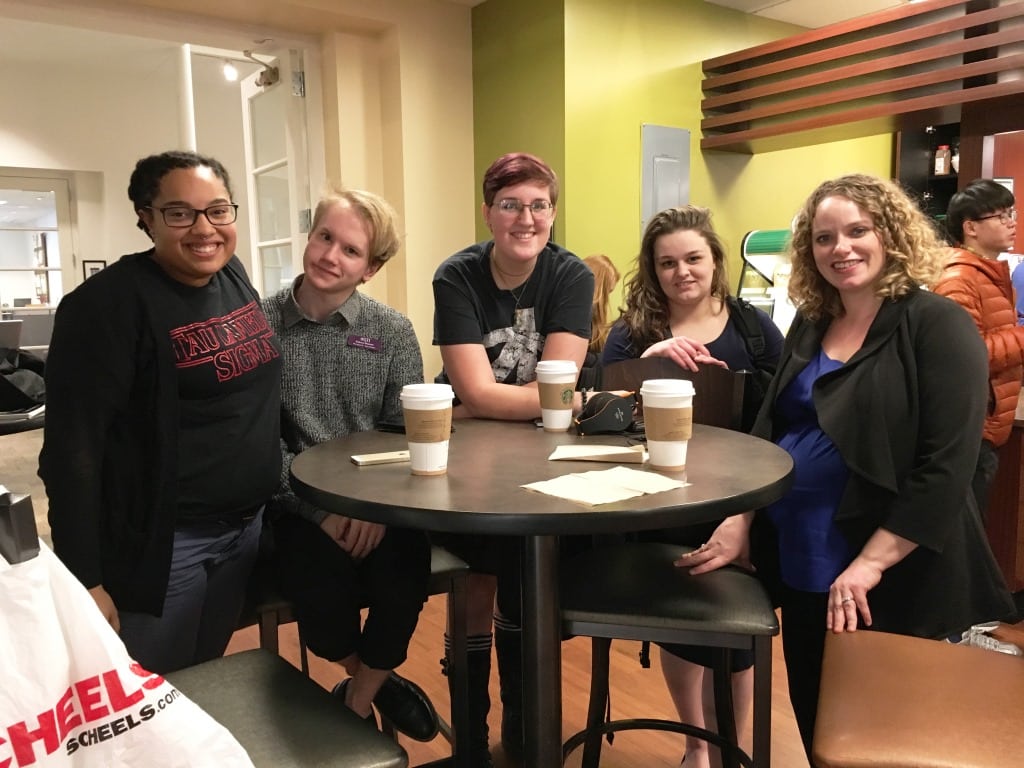 Kara Bollinger Kynion (BA in English, Truman State University; MA in Composition and Rhetoric, University of Kansas)
Hosted by Dr. Monica Barron (English & Linguistics) and David Leaton (The Writing Center, and English & Linguistics)
Kara Bollinger Kynion is the director of the Graduate Writing Initiative at the University of Missouri-Kansas City. She visited with Creative Writing students, spoke about publishing with Dancing Girl Press and Studio in Chicago, visited with student writing consultants at Truman's Writing Center, and gave a public reading of her work.
Aaron Stewart (BA, MAE, Truman State University)
Hosted by Dr. Jesse Krebs (Department of Music)
Aaron Stewart has been teaching at Lebanon High School for the past nine years, most recently serving as director of bands, and was named the 2016 Teacher of the Year for Lebanon High School. His ensembles have annually received superior ratings at the State Contest, top awards at marching competitions, and numerous student awards to the All-State band. He made a presentation to the NAfME collegiate music education association, a presentation to the MUSI 608 Administration of Music Education class and a clinic with the Wind Symphony on ways that they can improve their ensemble playing. The information he shared with each group came from his real-world experiences as both an assistant director of bands and now as the head director of bands at a thriving high school music program.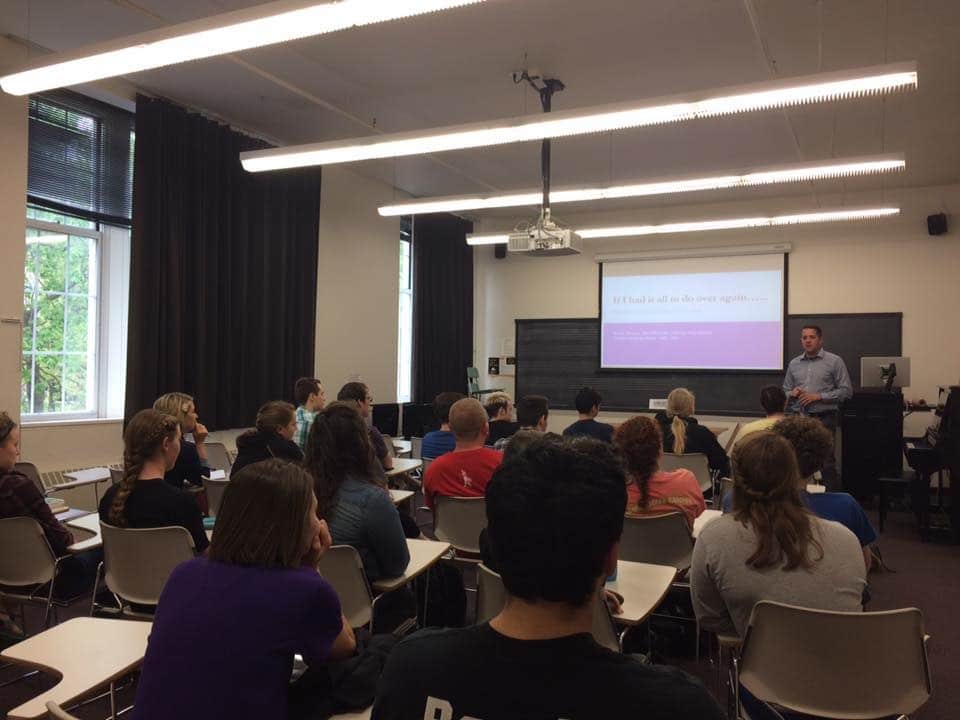 Dr. Jennifer Miller (BA Spanish, Truman State University, 1996; MAE, 1998) and Brian Santos (BA Spanish/Psychology, Truman State University, 2005; MAE in Spanish, 2016)
Hosted by Dr. Lucy Lee, Department of Classical and Modern Languages
Alumnus Brian Santos teaches Spanish at Francis Howell North High School, where he was named the Francis Howell North Teacher of the Year in 2013, the Francis Howell School District Teacher of the Year in 2015, and won the Distinguished Foreign Language Educator Award from the Foreign Language Association of Missouri at the Fall 2015 conference. Brian is pursuing a Doctorate in Educational Leadership and Policy Studies at the University of Missouri-St. Louis. Alumna Jennifer has taught all levels of Spanish at Francis Howell Central High School since 1997 and serves as department chair of World Languages. She holds a Doctor of Education degree from the University of Missouri-St. Louis and earned National Board Certification in 2007.
Brian and Jennifer made a public presentation on Truman's campus in October 2016 focusing on how new teachers can write a World Language curriculum with ACTFL principles in mind, and tips for job interviews for beginning teachers. In addition to their public presentation, Brian and Jennifer connected with students more personally at a luncheon in which they highlighted reasons they enjoy teaching high school foreign language, the challenges of language instruction at the secondary level, and unforeseen surprises that new teachers face. They also met with CML pedagogy instructors Dr. Tim Farley and Dr. Stacy Davis and provided feedback regarding the current Spanish and French MAE programs. This alumni visit was coordinated as part of the Classical & Modern Language Lingua Profs series, designed to provide opportunities for students to network with alumni in various levels of second language education; provide professional development in second language and ESL pedagogy and teaching methodology; and enhance students' understanding of the many career paths within the field of foreign language education.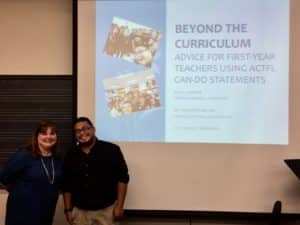 Kelsey Wiskirchen (BFA, Fibers, Truman State University, 2009), Janna Langholtz (BFA, Fibers, Truman State University, 2011); and Jennifer Teter (BFA, Ceramics, Truman State University, 2002)
Hosted by Professor  Wynne Wilbur, Department of Art
Art alumnae Kelsey Wiskirchen, Janna Langholtz, and Jennifer Teter visited the Art Senior Seminar class taught by Professor Wilbur in October 2016. Each alumna gave a slide presentation of their own work and what they are doing now and participated in a panel discussion on aspects of working as an artist and supporting themselves after graduation. This alumni visit project was the direct result of a survey in a previous Senior Seminar class, and this year's students rated the session highly informative and helpful. Thank you Kelsey, Janna, and Jennifer!
Dr. Mike Murawski (Art History, Truman State University, 2000)

Hosted by Dr. Sara Orel, Department of Art
Dr. Murawski, who works as the Director of Education and Public Programs at the Portland Art Museum, visited with classes in Museum Studies, presented a workshop with students on careers in museum work, and spent additional time on campus visiting with the Art History Society.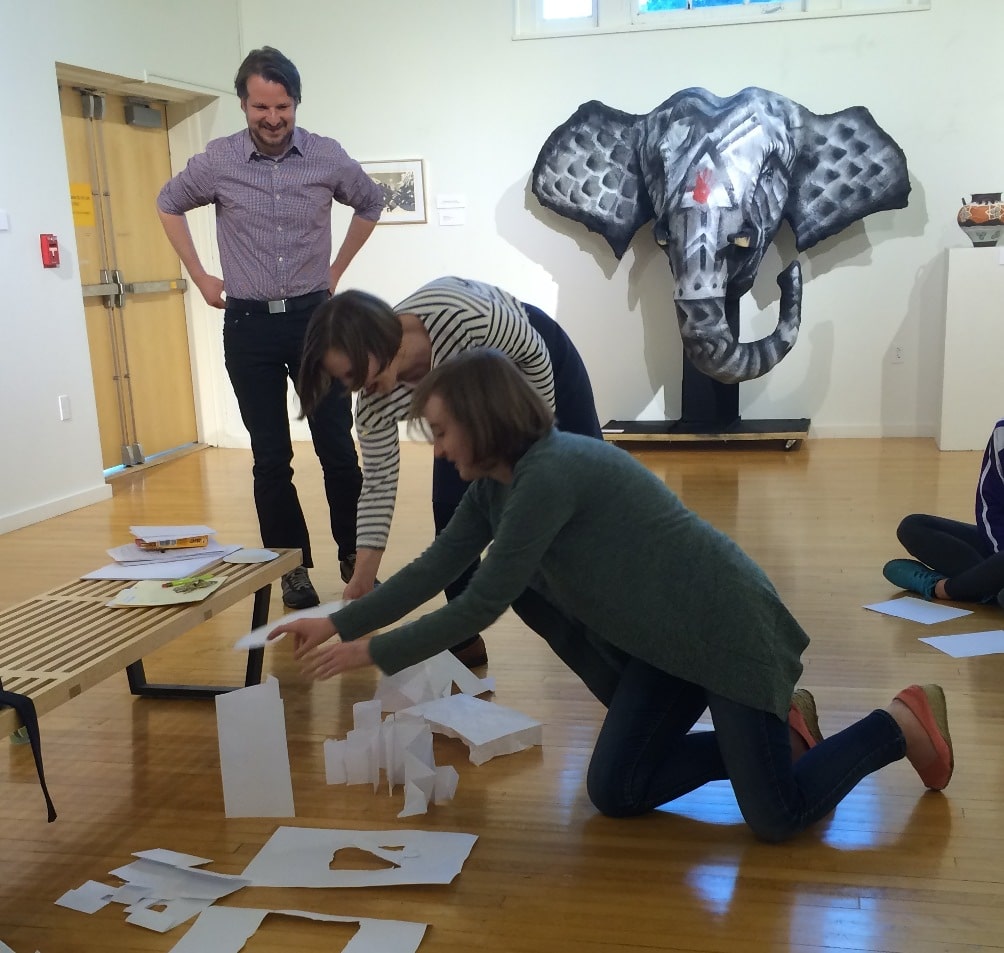 Allison Cundiff (English, Truman State University, 1997) and Heather Shana Fleming (English, Truman State University, 1998)
Hosted by Dr. Monica Barron, Department of English & Linguistics
Allison Cundiff and Heather Shana Fleming both teach at Parkway North High School in St. Louis County. Their visit included "Truman Alums Talk Teaching," a dialogic presentation on particular pedagogical challenges they have faced with their students, pre-Ferguson and post-Ferguson.
Jo Ann Daughtery (Music, Truman State University, 1995)
Hosted by Professor Tim Aubuchon, Department of Music
Jo Ann Daugherty maintains an active career as a jazz musician, pianist, conductor, musical director, recording artist, composer, and arranger. Her campus visit  included presenting a jazz workshop and a jazz masterclass with Truman students and a well-attended public concert by her Trio held in the Ophelia Parrish Performance Hall.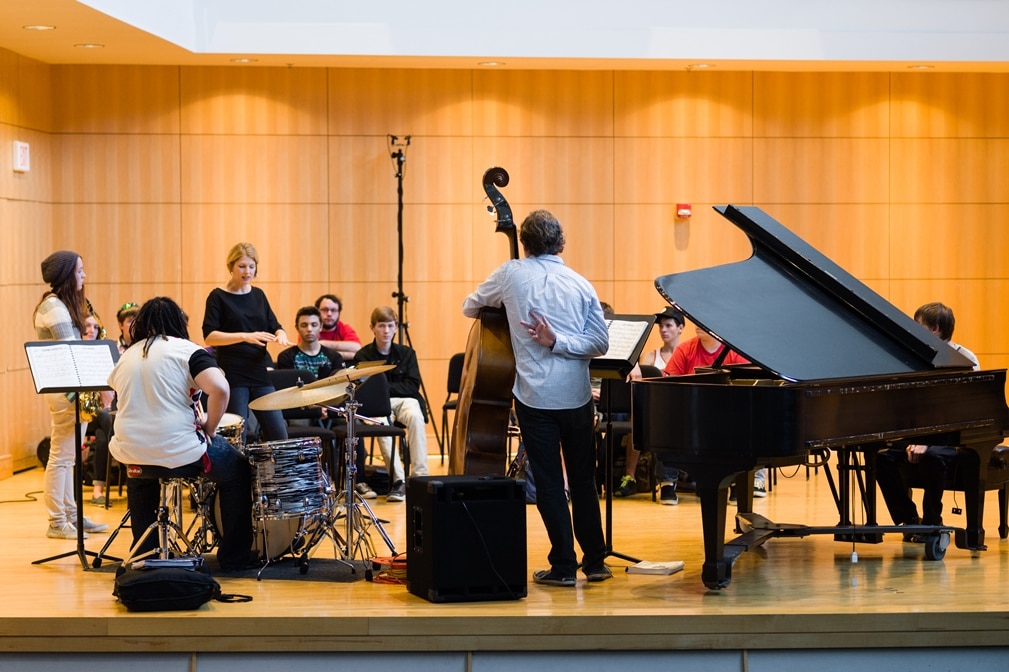 Laura McHugh (English, Truman State University, 1996)
Co-hosted by Drs. Monica Barron, Alanna Preussner, and Linda Seidel, Department of English & Linguistics
Award-winning author and former Truman McNair Scholar Laura McHugh read from her recent novel, The Weight of Blood, and led a craft discussion for aspiring Truman writers that addressed writing techniques and the process of editing and publishing a manuscript.
Benjamin Tate (Music, Truman State University, 2011)
Hosted by Music Graduate Student Christian Pierce
Since graduating from Truman in 2011, Benjamin Tate has established and maintained a successful private teaching studio based in Dallas and Houston, Texas. His returning visit to Truman included a talk about how to develop and operate a private teaching studio; a masterclass with several Truman saxophone students; and a performance as soloist in concert with the Truman Wind Symphony.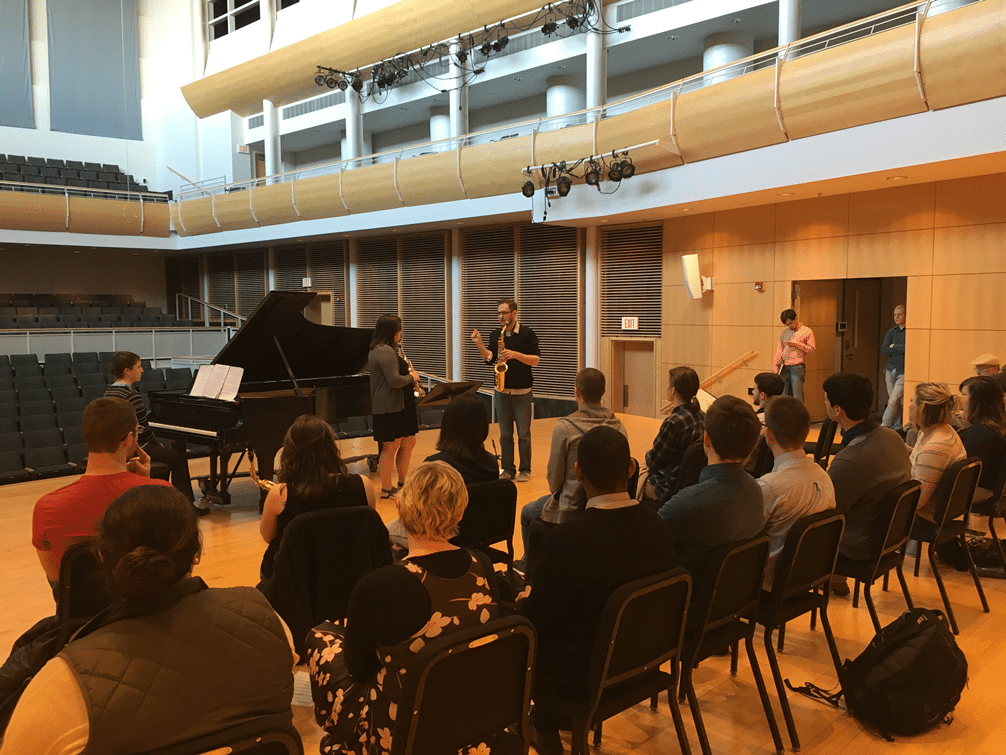 Anastacia Reidel Kohl, (Spanish BA, Truman State University, 1994; MAE, 1996)
Hosted by Dr. Lucy Lee, Professor of Spanish and Chair, Department of Classical & Modern Languages
Dr. Anastacia Reidel Kohl is a Spanish professor who supervises Graduate Teaching Fellows at the University of North Carolina-Chapel Hill. Her visit was part of the Lingua Profs Speaker Series and included an orientation to career possibilities in higher education for foreign language educators through highlighting her own career path from Truman. She also talked about best practices for online language instruction which is a topic of interest for future teachers and CML faculty as we move toward providing more online opportunities for our students
Three Clarinetists: Music Alumni Lynn Seward Fryer, Cindy Price Svehla, and Luis Adolfo Víquez

Hosted by Dr. Jesse Krebs, Department of Music
Each of the three returning alumni gave talks about their experiences since graduating from Truman – which ranged from work in military bands to work as a middle school teacher and a  conductor and performer. The guests also conducted master classes with Truman students and performed with the Truman Clarinet Choir at a campus concert as well as at the Missouri Music Educators Association Conference in Osage Beach, Mo.