Have questions or comments about the School of Arts and Letters at Truman? Contact us.
School of Arts & Letters
Ophelia Parrish 1101
Telephone: (660) 785-7777
Fax: (660) 785-7109
saldean@truman.edu
Mailing Address
School of Arts & Letters
Truman State University
100 E. Normal Ave.
Kirksville, MO 63501
Faculty & Staff Directories
Connect with Us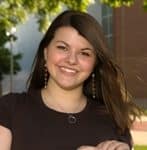 The diversity of the students at Truman definitely surprised me. We're in a small town in northeast Missouri, but there are students from all over the world here.