The School of Arts and Letters at Truman is driven by the acknowledgement that greater outcomes result when we collaborate whenever possible with community organizations. School of Arts and Letters faculty members have created several partnerships that benefit both Truman students and the broader community.
English Students Gain Clinical Experience
Truman graduate students in ENG 608: Management of Instruction in Secondary English complete approximately 30 hours of clinical work at Preferred Family Health Care's (PFHC) adolescent educational facility in Kirksville. PFHC is a residential juvenile drug treatment facility in Kirksville and partners with Kirksville Public Schools (KPS) to provide two hours per day of educational programming for adolescents housed at the facility. The Truman students complete two hours each week observing and assisting the KPS teacher with this educational programming. They also facilitate mini-lessons based upon perceived student need and designed to provide literacy exploration and growth. The clinical experience was initiated to provide Truman English education students an opportunity the semester before their student teaching internship to work with secondary students and to put into practice the theoretical principles they explored in their coursework.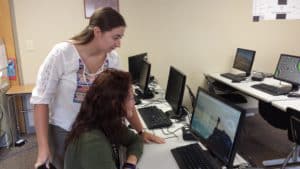 Music Students in the Community
School of Arts and Letters students frequently perform throughout the community, such as the recent student-organized performance of the President's String Quartet, provided free of charge for the congregation at the Kirksville Church of the Nazarene. In advance of the concert, the Truman music students worked with members of the church to prepare publicity, provide sound support, and special lighting that varied with the musical program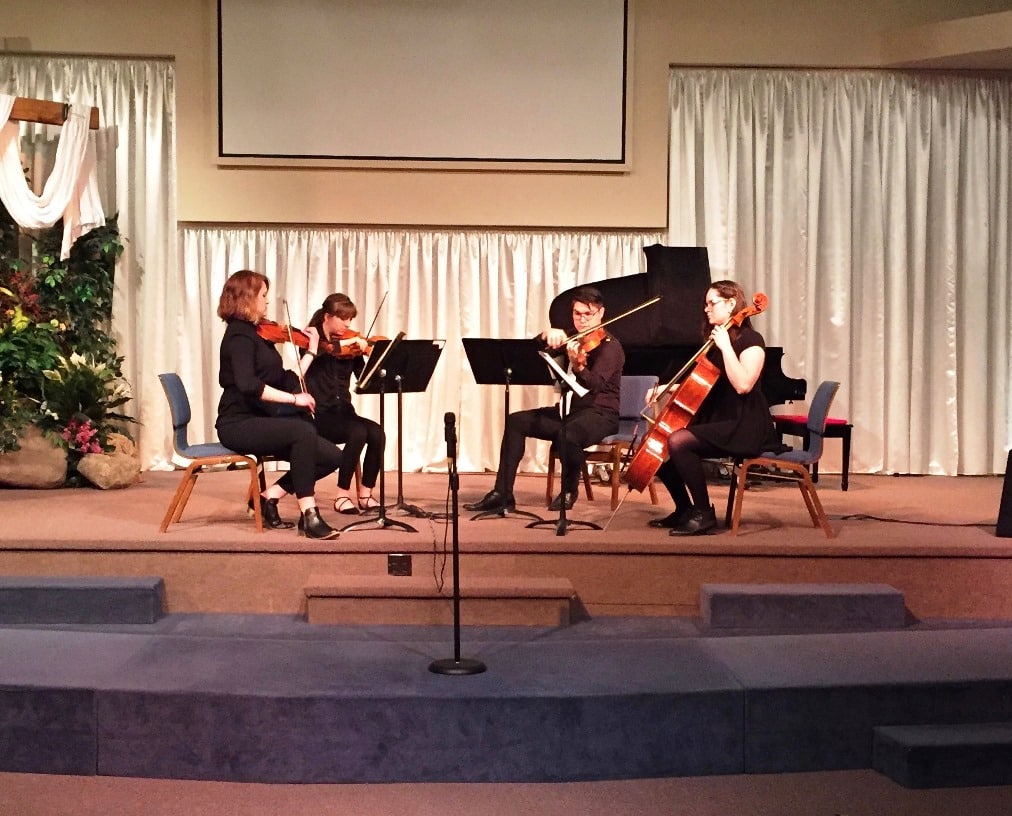 Collaborating with the Local High School's Art Department
Truman's Department of Art and the University Art Gallery often provide outreach activities with the Kirksville Schools (such as regularly hosting visits by Kirksville High School art students to the University Art Gallery), and recently provided venue space for the High School's annual juried art exhibition. University Art Gallery director Dr. Heidi Cook reports that, "It was great to have local high school art up in our halls which meant that Truman faculty and students got to see what KHS students are making and that KHS students and their families got to see our awesome facilities."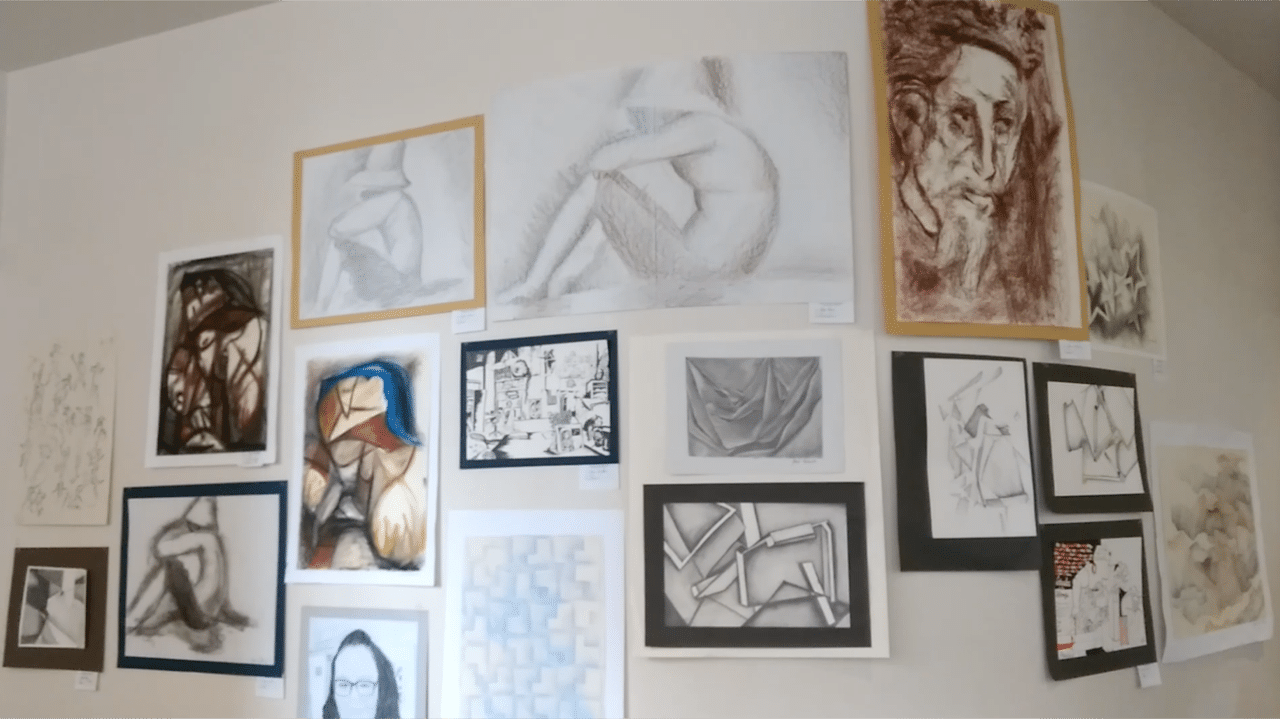 Teaching English as a Second Language
Truman and the Kirksville R-III School District work with students who have moved to the area from the Democratic Republic of the Congo to help them learn English and integrate into the community. Truman students benefit from this working relationship which gives them valuable experience for their professional careers.
United Speakers
The student organization United Speakers (formerly Hablantes Unidos) is a language-based organization that serves the immigrant community in and around Kirksville by tutoring students of all ages during or after school, giving English language lessons in workplaces in the community, participating in Truman service activities such as the annual Big Event, and translating for medical fairs, parent-teacher conferences, and other community needs. The organization also coordinates the Narratives Project, through which students collect and translate stories from local immigrants about their experiences in northeast Missouri.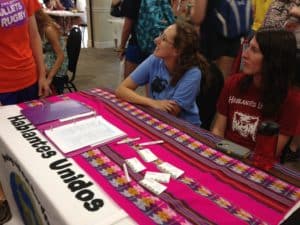 Children's Theatre Camp Director and Performing Arts Camp Assistant
Working with the City of Kirksville Parks and Recreation Department, this internship lets theatre students at Truman share their skills and love of theatre and gain valuable experience working with children. Interns plan and lead activities with children in grades K-5, select a children's play, and direct the play with the children on the last day of the Theatre Camp. The interns also work with the Performing Art Camp designed for grades 6-9.
Production/Stage Managing Internship

Another collaborative relationship with the Kirksville Parks and Recreation Department gives Truman theatre students a chance to work with the city's recreation specialist in the financial planning for the summer production. Interns create publications for advertising, programs, and tickets and gain experience with the purchasing policies of a government entity.
Design Program Engages Community Partners in Senior Capstone Projects
In 2015 the Bachelor of Fine Arts: Design degree track instituted changes to the degree's Capstone Experience Course to better prepare students in the program for life after graduation. The BFA: Design degree track is a pre-professional degree preparing students for careers in  mass media design fields which encompasses advertising, marketing, entertainment, and publishing (traditional and digital). Changes to the course focused upon experiential learning, critical-thinking, and problem-solving, along with a professional expectation of working with actual regional/local "clients."Throughout the semester, the students demonstrate skills, attitudes and knowledge developed throughout the degree path — time and project management, aesthetic/creative/conceptual sensibilities, inter-personal and presentation skills and digital fluency/technical production knowledge. The semester culminates in May with a group trade-show-style exhibition of the work produced throughout the semester for the clients. Held off-campus at the Kirksville Arts Center, this exhibition brings a higher awareness to the region and community of the abilities of the student designers at Truman State University and provides potential new patrons for both the Arts Center and the Department of Art.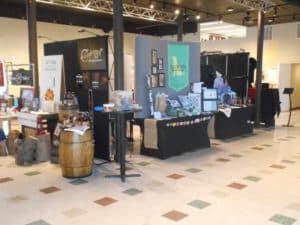 Collaborative Partnership with Commercial Art Gallery
Beginning in the fall of 2016, the Department of Art began a partnership with Gallery 104, a commercial gallery in downtown Kirksville. A space rented in the Gallery will be used to exhibit work by Department of Art faculty and students in a professional setting just blocks from campus. This collaborative relationship provides opportunities and clientele for the commercial gallery while also providing opportunities for Truman art history, design, and studio art students to receive experiences in professional practices. This in turn provides students with a deeper understanding of exhibit practices in a commercial context as they observe and assist faculty in planning and carrying out exhibitions. Those who exhibit also benefit from having their work evaluated by an impartial curator and exhibited in a professional gallery to new audiences.
Philosophy for Kids
Since the Fall of 2014 a service learning project entitled "Philosophy for Kids" matches up students in ENG 415: "Children's Literature" with students in PHRE 186: "Introduction to Philosophy" and trains them to use picture books to introduce philosophical questions to children in the Kirksville community. The project helps introduce children not only to philosophical concepts through the use of such classic children's books as Sylvester and the Magic Pebble and The Giving Tree but also gives them practice in articulating their own ideas and discussing them with others. In its first semester nearly 30 Truman students teamed up to teach philosophy to children in 10 classrooms in the Kirksville Primary and Ray Miller Elementary School, and the project continues with comparable levels of student involvement each fall. Kirksville primary and elementary school teachers who have had Philosophy for Kids teams visit their classrooms in previous semesters often request teams again.
Exchange Agreement with Boccherini Conservatory of Music (Lucca, Italy)
The Truman Department of Music and the Boccherini Conservatory have maintained a formal exchange agreement since 2006. Coordinated by Dr. Sam McClure, professor of Music, the agreement stipulates that the two institutions will continually collaborate in providing student study-abroad experiences and faculty exchanges. Truman students benefiting through this international exchange have included violinists, conductors, percussion and composition students, and Truman faculty have been hosted by the Conservatory in residencies, recitals, and concerto appearances. Several music students from the Italian conservatory have chosen Truman as a place to continue their musical education, and Truman has hosted Boccherini faculty performers on numerous occasions as soloists with the Truman Orchestra, most recently Alberto Bologni, performing the Paganini Violin Concerto No. 1 and Haydn – Sinfonia Concertante, in 2015.
Fine Arts Design
Fine Arts Design (FAD) is a service provided by Truman's Art Department and Design Program to the campus and non-profit organizations in the Kirksville community. In this experiential and student-run learning environment, student designers gain professional experience working with clients, managing design expectations, and overseeing deadlines. The design service is provided gratis to clients, and the design and production options vary depending upon the time frame and scope of the project.  For more information about the Fine Arts Design service at Truman, please visit 
fad.truman.edu/
.
Collaborating with the Local High School's Music Department
Truman's Department of Music and the Kirksville High School's Department of Music have a long history of mutual support and collaboration. The sharing of facilities, equipment, and personnel for mutually beneficial educational purposes provides significant benefits for students of both departments. The recent
A Very Happy Holiday
concert is a prime example whereby Truman's choral ensembles — University Chorus, Cantoria, and Voci della Tempeste; Truman's Brass Choir and Faculty Brass Quintet, the Kirksville High School choirs, and Truman faculty vocal soloist Jeffrey Seppala combined forces in creating a holiday extravaganza that was sold out for two performances, ending in enthusiastic standing ovations. See the rehearsal photos below!