School of Arts and Letters
School of Arts and Letters
Everyone has something they are passionate about, and the School of Arts and Letters at Truman encourages you to investigate the world in creative and thoughtful ways. As part of this supportive community of learners, you explore the ways people have sought to express themselves and the world around them as you develop your own talents. You build a powerful academic foundation that provides you with valuable skills—including problem solving, critical thinking, and communication—you can use your entire life in any career.
Discover a dynamic learning atmosphere that includes art studios, music rooms, theaters, and study areas that encourage creativity and collaboration.
Events
Inspiring events take place at the School of Arts and Letters from art exhibits to music and theatre performances to distinguished visiting scholars.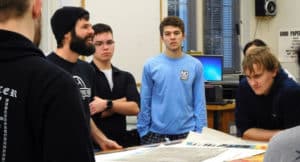 Josh Winkler, internationally exhibiting artist and printmaker, shares his work and process with Printmaking I students.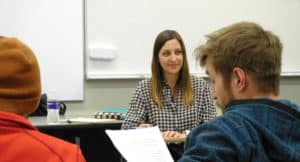 Laura McHugh, mystery author and Truman alumna, came back to campus for a Clayton B. Ofstad Reading Series presentation and to teach a mystery writing workshop.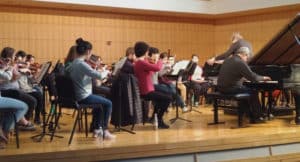 The University Orchestra collaborated with six guest musicians from the Boccherini and Puccini Conservatories.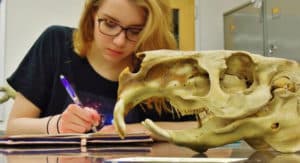 Students in Intermediate Drawing Exploration worked from still-life objects generously loaned by the Biology Department.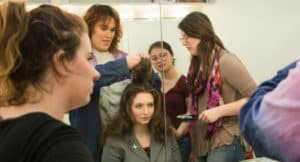 The make-up and costuming teams help prepare the actors for the performance of "Extremities."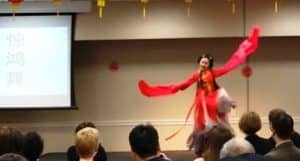 The Society for Sino-American Studies held a Chinese New Year Celebration to help usher in the Year of the Dog.
Featured Events
Through the work of its students, faculty, and staff, the School of Arts and Letters exemplifies Truman State University's liberal arts and sciences mission by:
cultivating creative, critical, and interdisciplinary inquiry;
providing rich academic and artistic experiences in a supportive environment;
serving as a cultural resource for the community, region, and beyond;
and inspiring students to lead meaningful, productive, and interconnected lives.
These attainable goals will work to enhance our students' experience, advance our academic programs, and support our shared Mission.
Pursue collaborative partnerships in the broader community.
Enhance interaction between our alumni, our faculty, and our students.
Increase visibility of our public events.
Promote programmatic skills in our programs that have application in the world of work.
Follow the School of Arts and Letters on: