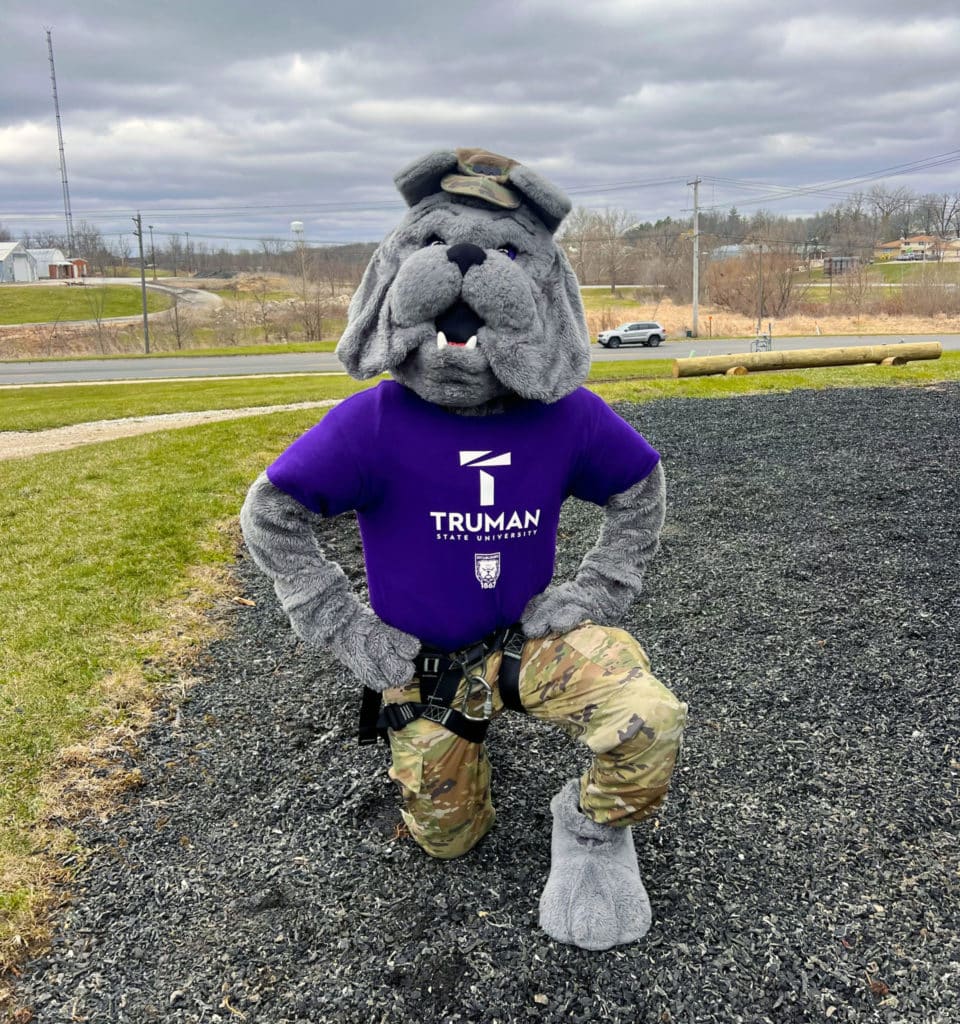 Open to students in ALL majors, the Army Reserve Officers' Training Corps (ROTC) at Truman State University offers motivated students the tools, training, and experiences to succeed in any professional field — be it in the Army or in a civilian career.
Elective classes offered through Army ROTC also provide students with the foundation to become a commissioned officer in the Active Duty, Army Reserve, and Army National Guard.
Photo: Spike the Bulldog poses for a picture at the ROTC rappel tower.
How the ROTC Program Works
The Army Reserve Officers' Training Corps (ROTC) is one of the nation's top leadership programs. Students can complete the requirements of Army officer training while simultaneously attending Truman and earning a degree.
Enrolling in the ROTC program is not the same as joining the Army. During the first two years, ROTC cadets have no military obligation (unless they are a scholarship recipient).
Successful completion of the four-year ROTC program and the earning of a bachelor's (or master's) degree can lead to an officer's commission in the:
Army Active Duty
Army Reserve (assignment into the Army Reserve may be guaranteed allowing for the pursuit of a civilian career)
Army National Guard
Opportunities and Experiences
Scholarships
Financial assistance for military science students can range from merit-based ROTC scholarships to credit for attending Cadet Initial Entry Training.
Photo: A cadet receiving a 4-year scholarship from a professor of Military Science.
ROTC Program Benefits
The Army ROTC program offers students benefits that range from financial assistance to leadership training to travel throughout the United States and overseas.
Photo: Newly contracted cadets are recognized in a contracting ceremony held during half-time at a Truman basketball game.
ROTC Courses
The basic ROTC course covers soldiering skills, health and fitness, effective communication, military customs and more. More advanced classes cover team building, Army rank and structure, navigation, and other topics.
Photo: Two cadets completed a land navigation course working in buddy teams to find their points.
Internships
Army ROTC offers opportunities such as a 25-day paid summer internship that allows students to develop their leadership and critical-thinking skills.
Photo: A Truman cadet was selected for a summer internship at Aberdeen Proving Grounds in Maryland and an internship at the Army Research Laboratory in the Weapons and Materials Research Directorate.