Ofstad Visiting Scholar Program
Ofstad Visiting Scholar Program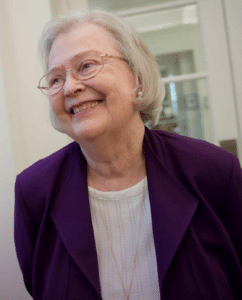 Thanks to the profound generosity and vision of Mrs. Odessa Ofstad in creating Truman State University's first-ever endowed chair, the Department of English and Linguistics is able to offer a range of intensive seminars, masterclasses, and workshops led by talented, renowned, and deeply engaging guest writers and scholars from around the world.
These courses expose our students to new scholarly, artistic, and professional possibilities by bringing to campus accomplished individuals working in academia, publishing, and the nonprofit sector. The program has included scholars and writers from underrepresented groups, furthering its benefits for students and the university as a whole.
Alongside the classroom experiences made possible by Mrs. Ofstad's generosity, The Clayton B. Ofstad Readings Series invites all members of the northeast Missouri community to public presentations by each of these scholars and writers.
Mrs. Ofstad's husband, Clayton B. Ofstad, joined the Language and Literature Department at Truman in 1967, where he taught until his retirement in 1987. He passed away in 1994.