MAE Program Conceptional Framework & Objectives
Master of Arts in Education
Conceptional Framework and Objectives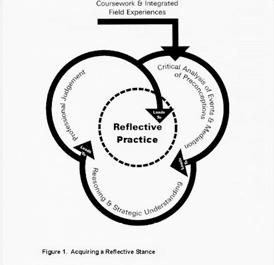 The framework that Truman's Education Department applies to its Master of Arts in Education program rests in the idea that all practice lead inevitably to a reflective practice as an educator.  Initially, the program's coursework and integrated field experience work in coordination with critical analysis of actions and reactions.  Practitioners then harness reasoning and directed understandings, together with multiple perspectives to further evaluate and reflect.  Threading this building conception of events through the educator's professional judgment leads the teacher to reflect in action on events occurring within the classroom and applying that critical analysis moving forward not only within that particular lesson or class but also through the following lessons and units.
Program Objectives
Truman State University's Master of Arts in Education program will:
Prepare teachers who are distinguished by their comprehensive liberal learning, developed through the challenging liberal studies component and integration of the undergraduate degree program;
Prepare teachers who have mastery of the subject specialization, developed through the baccalaureate degree in the academic discipline and through graduate courses and experiences in their chosen teaching field;
Prepare teachers who demonstrate professional skills of high quality, developed through solid professional education curriculum offerings and meaningful clinical and internship experiences;
Prepare teachers who are stimulated to exchange and implement the results of research and new knowledge in the profession;
Prepare teachers who function with competence and confidence in confronting issues of the profession in a pluralistic society characterized by continuous change;
Prepare teachers who have leadership competence in making informed professional judgments;
Prepare candidates who are able to enter doctoral or other professional education programs; and
Prepare reflective teachers who are capable of continually and critically analyzing their own professional performance, which allows them to grow in a professional manner; who are characterized by habits of life-long learning; and who engage in scholarly interaction and further learning experiences.