Classical and Modern Languages Department
Classical and Modern Languages Department
Students in the academic programs offered by the Department of Classical and Modern Languages become versatile thinkers and proactive doers who can connect with diverse communities around the world. Students come away with a firm knowledge of languages, customs, literature, and history that guide other cultures while being equipped with the critical-thinking and problem-solving skills necessary to make a difference in their communities and beyond.
Languages at Truman
Regardless of your major, being proficient in a foreign language can boost your career opportunities. Whether you want to study abroad, teach, pursue government work, or conduct international business, you can give yourself an edge by building a foreign language into your studies.
Opportunities for Hands-on Language Learning
The World Languages Living-Learning Community offers a unique on-campus living option for students with a strong interest in languages and cultures. Other opportunities to enhance your language skills include weekly conversation tables; service learning opportunities with native speakers in the community, in the schools, and Taiwan Connect; and immersion weekends in different languages.
Study-Abroad Programs
Study-abroad programs in China, Costa Rica, Japan, Spain, and Guatemala are led or organized by Classical and Modern Languages faculty members. Scholarships are also available for study abroad.
Resources for Prospective Students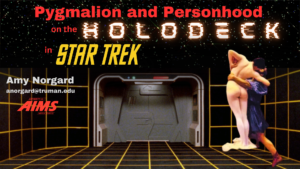 "Star Trek and the Ancient Past" Special Conference
November 15, 2023
Dr. Amy Norgard, Associate Professor of Classics, has been participating in the Antiquity in Media Studies Virtual Conference (from Nov 10-18, 2023), an organization which studies the reception of antiquity in contemporary media. Dr. Norgard co-organized 5 panels at the conference on the theme of "Star Trek and the Ancient Past" which features 14 research papers […]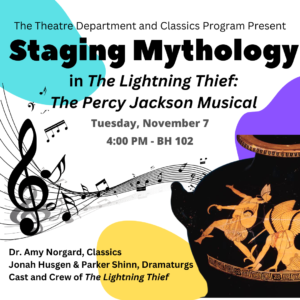 Staging Mythology in The Lightning Thief: The Percy Jackson Musical
November 15, 2023
Dr. Amy Norgard, Associate Professor of Classics, recently teamed up with the cast and crew of the Truman Theatre production of The Lightning Thief: The Percy Jackson Musical for a special event on Staging Mythology. A scholar on the receptions of ancient literature in contemporary media, Dr. Norgard discussed the mythological underpinnings of the Percy Jackson franchise. […]