Liberal Arts Culture
The study of a second language engages people in the exploration of cultural diversity: new worlds of people, customs, literature, and history suddenly become more understandable when they can be approached directly through the primary language. It is one of the cornerstones of a liberal arts and sciences education and provides a skill set that uniquely equips the second language learner for today's diverse workplace and globalized economy.
Truman is the place to study languages. You can major in Classics (Latin/Greek) or in Modern Language with specialization in French, German, Russian, Spanish or a combination of languages. You can pursue a minor in Chinese, French, French Minor in Translation, French for the Professions, German, Greek, Italian Studies, Japanese, Latin, Russian Studies, Spanish, and Spanish for the Professions. We also offer Interdisciplinary minors in Asian Studies, Classical Studies, and Foreign Language Teacher Preparation. Many students choose more than one.
The Department of Classical and Modern Languages also supports the Master of Arts in Education French and Spanish degrees.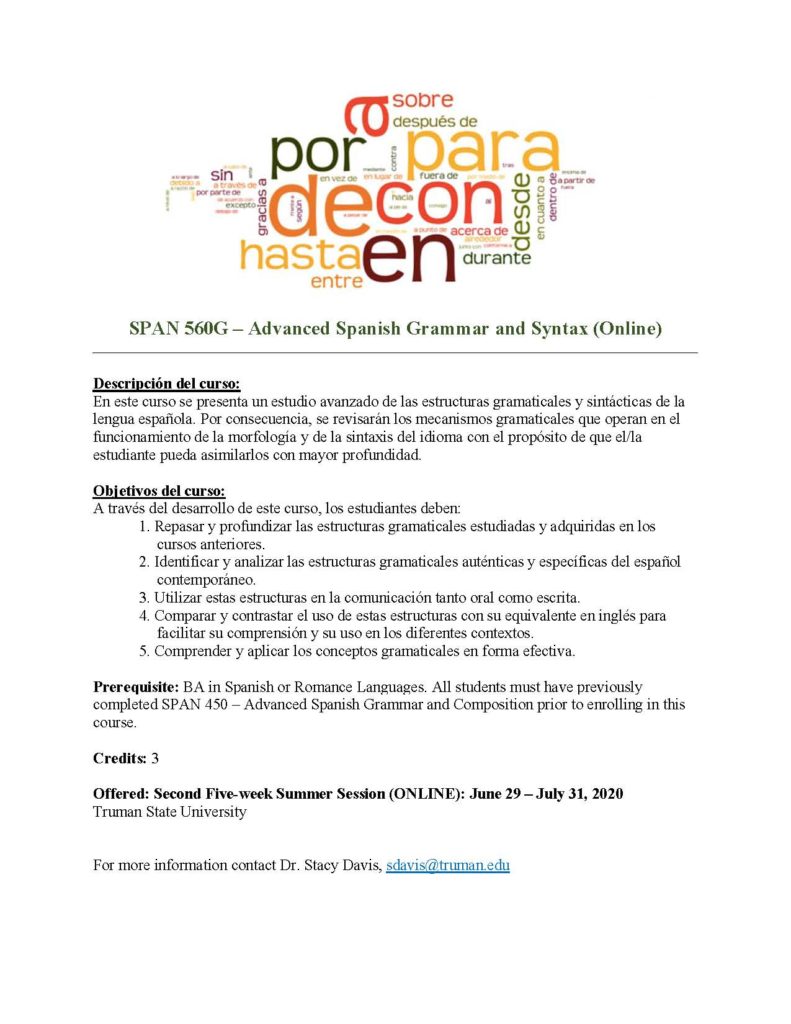 Spanish Summer Online Courses (560G, 502G)
October 15, 2019
This link http://institute.truman.edu/nondegree/how-to-apply-non-degree-seeking-graduate-students/ has information and contact numbers for non-degree seeking students wanting to enroll in Truman classes.   If you have specific questions you could contact: Dana Rigby Truman State University Institute for Academic Outreach 303 McClain Hall PH: 660-785-5406
The Paris Chamber of Commerce interviews Michael Moore about Truman's French for the Professions offering.
October 14, 2019
Michael Moore, étudiant à Truman State University Entretien avec Michael Moore, étudiant à Truman State University aux États-Unis et lauréat d'un Diplôme de français des Affaires et d'un Diplôme de français du Tourisme, de l'Hôtellerie et de la Restauration (niveau B1) . Pouvez-vous vous présenter ? Je m'appelle Michael Moore, je vis dans le Missouri, […]