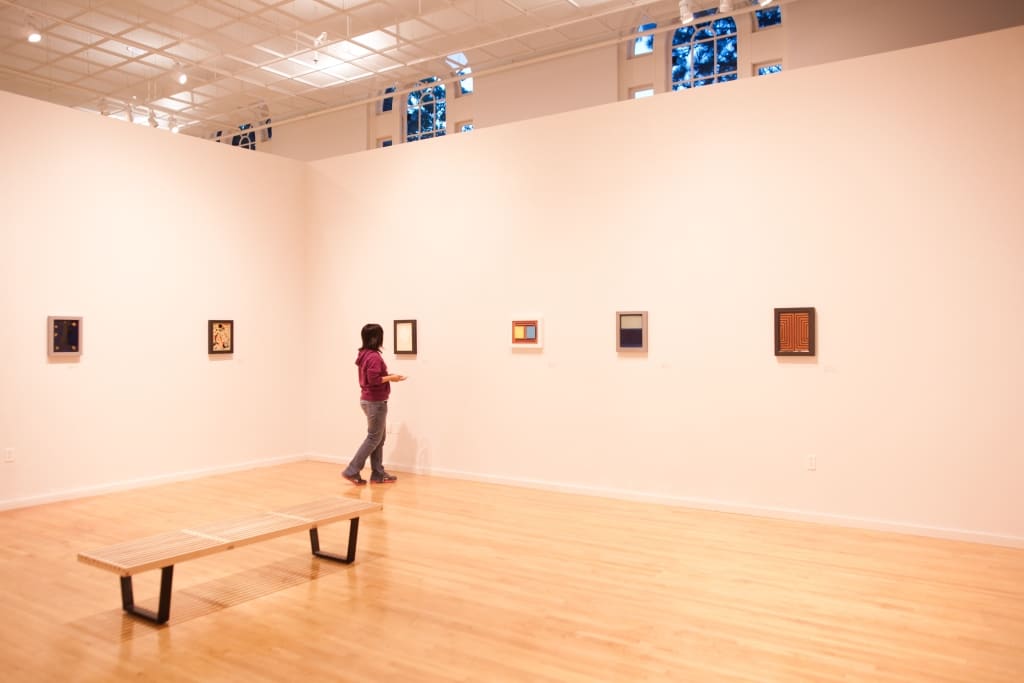 The Truman State University Art Gallery is committed to the belief that art matters. It changes lives, documents and reflects our experiences, and shows us worlds and perspectives other than our own. We also believe that the liberal arts and sciences matter. Knowledge does not exist in isolation; particularly in the information age, it is interconnected, is created, developed, and maintained communally, and is changeable over time and across cultures.
Each year, the University Art Gallery hosts exhibitions of faculty and student art, art historical exhibitions, and exhibitions of regional contemporary art.
---
2022-2023 University Art Gallery Schedule
---
Fall 2022
August 30 – October 8
New Work by Truman State Art Faculty – Laura Bigger, Lindsey Dunnagan, Nick Phan, Amy Smith, Danielle Yakle
Studio art faculty will show their recent bodies of work in this year's faculty exhibition, which includes printmaking, painting, ceramics, and sculpture.
Tuesday, August 30
Speak with the artists, 4:30-5:00 p.m.
Reception, 5:00-6:00 p.m.
---
October 20 – December 1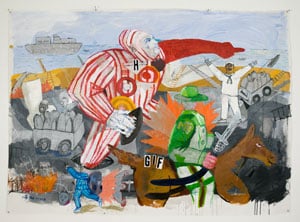 The Motion of the Crowd – Gregory Rick and Ryan Fontaine in Conversation
The Motion of the Crowd will combine Gregory Rick's large-scale paintings with Ryan Fontaine's kinetic sculptures. Rick's narrative paintings explore his personal experiences and the contemporary moment in the sprawling context of empire and colonization. The sounds and atmospheric effects of Fontaine's kinetic sculptures provide multisensory layers to the dynamic scenes.
Rick recently completed his MFA at Stanford University, winning a Dedalus Fellowship and SFMOMA's SECA Art Award. The exhibition is organized in collaboration with HAIR + NAILS Gallery in Minneapolis, run and curated by Ryan Fontaine and Kristin Van Loon since 2016.
DrumRoll – Mary Ellen Childs – in the Charlyn Gallery
DrumRoll is the premiere of a new immersive audio-visual installation by Minneapolis composer and artist Mary Ellen Childs. Projected videos of a percussion performance on the walls and floor of the Charlyn Gallery give the viewer the experience of entering into the performance with a swirl of motion and drumsticks and drumheads coming in and out of view. This interdisciplinary exhibition is happening in collaboration with the North Star Music Festival held at Truman, October 21-22, 2022.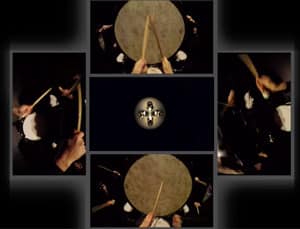 Thursday, October 20
Artist talk with Ryan Fontaine and Gregory Rick, 5:00-6:00 p.m.
Reception, 6:00-7:00 p.m.
Saturday, October 22, 7:30 p.m.
Musical premiere, Mary Ellen Childs with Truman's Percussion Ensemble I, Ophelia Performance Hall
Thursday, November 3, 5:00-6:00 p.m. – Zoom Link
Virtual conversation about running a gallery with Ryan Fontaine and Kristin Van Loon of HAIR + NAILS, Minneapolis
---
December 5-10
BA/BFA Thesis Exhibition
We set aside a week at the end of each semester to show the capstone projects of studio art seniors completing their BA or BFA in ceramics, fibers, painting, photography, printmaking, or sculpture.
A Strong Foundation
Faculty-selected works from our studio art foundation courses.
Closing reception
Friday, December 9, 6-7:30 p.m.
---
Spring 2023
January 24 – March 3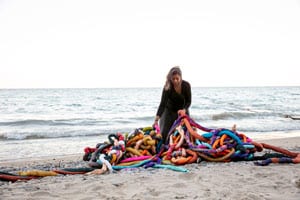 Exercises in Letting Go – Nirmal Raja
Exercises in Letting Go explores loss through Nirmal Raja's expansive practice, including painting, fibers, ceramics, photography, installation, and video. In part, Raja instrumentalizes objects and clothing left behind by loved ones to make work about burden, grieving, caregiving, memory, and the mystery of death and other types of loss. Raja is an interdisciplinary artist and curator based in Milwaukee.
Home/Body – Madeleine LeMieux – in the Charlyn Gallery
Home/Body is a series of works that combine fibers, sculpture, and painting to explore the relationship between embodied experiences and the domestic environment that often contain them. Madeleine LeMieux is Art on the Move Coordinator and Instructor at the University of Missouri.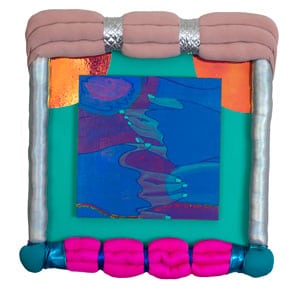 Tuesday, January 24
Artist talk with Madeleine LeMieux, 4:30-5:30 p.m.
Reception, 5:30-6:30 p.m.
Virtual artist talk with Nirmal Raja
Thursday, February 23, 4:30-5:30 p.m. – Zoom Link
---
March 21 – April 27
Annual Juried Student Exhibition
Guest juror: Madeleine LeMieux
The Annual Juried Student Exhibition is always one of the highlights of the University Art Gallery schedule. Some of the best recent Truman student artwork is on view, juried in spring 2023 by Madeleine LeMieux, Art on the Move Coordinator and Instructor, University of Missouri. For the exact dates, rules, and entry form click here.
Land Enveloped – Lindsey Dunnagan – in the Charlyn Gallery
In Land Enveloped, shapes from mountains, fishnets, and iceberg striations come together in layers of fabric that hang from the ceiling and form pliable walls. These walls create a dynamic path where narrow passageways open to expansive and translucent views through silk organza. This project creates a sense of discovery and magic that is inspired by Lindsey Dunnagan's childhood memories of growing up in the Alaskan landscape. Dunnagan is an Associate Professor of Art at Truman.
Tuesday, March 21, 5:00-6:00 p.m.
Opening reception and Juried Student Exhibition awards
Thursday, April 27, time TBD
Closing reception, Student Research Conference
---
May 1 – 6
BA and BFA Capstone Exhibition
A week is set aside at the end of each semester to show the capstone projects of studio art seniors completing their BA or BFA in ceramics, fibers, painting, photography, printmaking, or sculpture.
Friday, May 5, 6:00-7:30
Closing reception
---
Past Exhibitions
Visit Us
The University Art Gallery resides in the renovated gymnasium in Ophelia Parrish Hall located on Truman State University's campus near the intersection of East Normal Street and South Mulanix Street. Exhibitions are free and open to the public.
Gallery Hours:
Monday – Thursday 8:30 a.m. – 7:00 p.m.
Friday 8:30am – 5:00 p.m.
Saturday Noon – 4:30 p.m.
Please note, the University Art Gallery is closed between exhibitions and during all Truman State University breaks.
Parking
During regular business hours, free on-street parking is available on S. Florence Street and S. Mulanix Street. After hours and on Saturdays, you may park in the university parking lots off E. Normal Street for free.