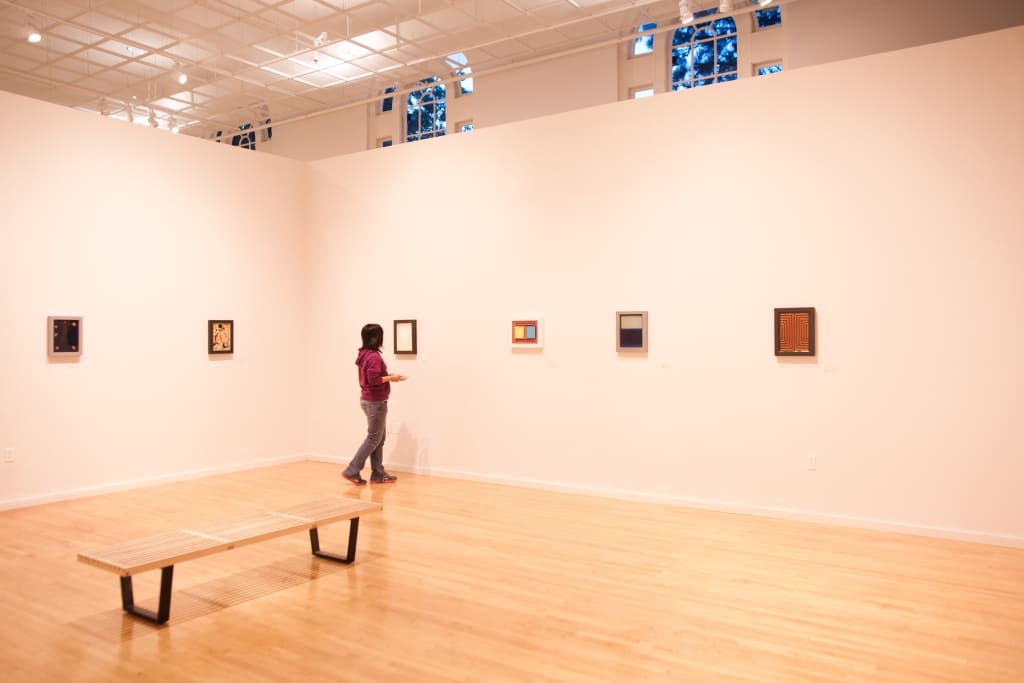 The Truman State University Art Gallery is committed to the belief that art matters. It changes lives, documents and reflects our experiences, and shows us worlds and perspectives other than our own. We also believe that the liberal arts and sciences matter. Knowledge does not exist in isolation; particularly in the information age, it is interconnected, is created, developed, and maintained communally, and is changeable over time and across cultures.
Each year, the University Art Gallery hosts exhibitions of faculty and student art, art historical exhibitions, and exhibitions of regional contemporary art.
---
2023-2024 University Art Gallery Schedule
---
Fall 2023
August 29 – October 11
Working America – Sam Comen
Learning not to hurt others – Madeline Brice – Charlyn Gallery
Tuesday, August 29
Artist Talk with Madeline Brice, 4 p.m.
Opening Reception, 5-6:30 p.m.
Monday, September 18
Virtual Artist Talk with Sam Comen, 5 p.m. (CDT) | Zoom Link
---
October 17 – December 1
What we Inherit – Janhavi Khemka, Maddie May, and Thuong Hoai Tran
I'll be right here waiting for you to finish – Emmett Ramstad – Charlyn Gallery
Tuesday, October 17
Artist Talk with Emmett Ramstad, 4 p.m.
Opening Reception, 5-6:30 p.m.
Monday November 13
Virtual Artist Talk with Janhavi Khemka, Maddie May, and Thuong Hoai Tran, 6 p.m. (CDT) | Zoom Link
---
December 4 – December 8
A Strong Foundation
---
Spring 2024
January 23 – March 1
Mobility: African-American Artists Abroad, work from the Petrucci Family Foundation Collection of African-American Art
Tuesday, January 23
Opening Reception and Talk, 5-6 p.m.
---
March 19 – April 25
Annual Juried Student Exhibition – in the main gallery
Guest juror: Lorena Molina
This must be the place – Lorena Molina

Tuesday, March 19
Opening Reception and Student Awards, 5-6 p.m.
Thursday, April 18
Reception, Student Research Conference, Time TBD
---
April 29 – May 4
BA/BFA Thesis Exhibition
Friday, May 3
Closing Reception, 6-7:30 p.m.
---
Past Exhibitions
Visit Us
The University Art Gallery resides in the renovated gymnasium in Ophelia Parrish Hall located on Truman State University's campus near the intersection of East Normal Street and South Mulanix Street. Exhibitions are free and open to the public.
Gallery Hours:
Monday – Thursday 8:30 a.m. – 7 p.m.
Friday 8:30am – 5 p.m.
Saturday Noon – 4:30 p.m.
Please note, the University Art Gallery is closed between exhibitions and during all Truman State University breaks.
Parking
During regular business hours, free on-street parking is available on S. Florence Street and S. Mulanix Street. After hours and on Saturdays, you may park in the university parking lots off E. Normal Street for free.