Executive-In-Residence Program
School of Business
Raymond F. Bentele/Mallinckrodt Executive-In-Residence Program
In recognition of the significant contribution that Truman alumnus Raymond F. Bentele made as President and CEO of Mallinckrodt, Inc., the Raymond F. Bentele/Mallinckrodt Executive-In-Residence Program was endowed in the School of Business by IMCERA in 1993.
This endowment enables the School to select one outstanding individual from business and industry to spend two to three days on campus each semester. The executive engages in discussions with Truman students, both in and out of the classroom.
2021 Executive in Residence
Bill Neff ('97)
Vice President, Bags and Apparel

Yeti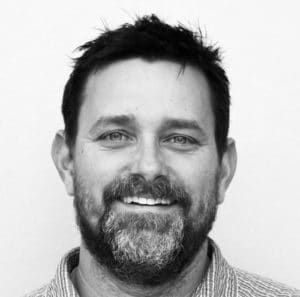 Bill Neff is a leading innovator, designer and marketer of premium outdoor gear. Over the past two decades, he has been a leader in the field of sports marketing and community-based brand develop for companies such as YETI, Under Armour, and Sitka Gear.
Neff visited Truman Nov. 30-Dec. 2, 2021 During his time on campus, he presented a talk on YETI, lessons of managing during the pandemic and the unwritten rules of professional success. He also provided guest lectures to several marketing classes and met with students and faculty.
A 1997 graduate, Neff currently resides in Austin, Texas, with his wife and four daughters.
For the Raymond F. Bentele/Mallinckrodt Executive-In-Residence Program, special emphasis is placed on examining how the executive handles the unique challenges inherent in a "real world" setting. As a result of these interactions, students get a better understanding of the pragmatic as well as the theoretical issues in business. Faculty gain insight from the visiting executive that enables them to remain current on significant issues in the rapidly changing global business environment.During the visit, the Raymond F. Bentele/Mallinckrodt Executive-In-Residence has the opportunity to interact with Truman students and faculty through the following activities:
Presentations to select business or accounting classes;
Individual interaction with students outside the classroom;
Luncheon presentations to business and accounting students and faculty;
Participation in a faculty development workshop for business and accounting faculty; and
A presentation to a University-wide audience on a topic of broad interest. Copies of the Executive-In-Residence campus-wide lecture will be published for distribution with at least fifty copies given to IMCERA for use as the company determines.
The endowment provides for a $1,500 honorarium and all other costs associated with the executive's visit.

Positions listed were those held by the executives-in-residence at the time of their visit to Truman.
2020
Mary Jesse
CEO
Mobile Technologies, Inc.
2019
Amanda Gioia ('93)
Vice President, Information Technology Service Management
Mastercard
2019
Bill Koster ('84)
Vice President
Protective Life Insurance Company
2018
Doug Villhard ('94)
CoFounder/CEO
Second Street
2017
Russ Willey ('88, '90)
Senior Vice President Corporate Business Management
Enterprise Holdings, Inc.
2017
Jim Cunningham
Vice President, Operations
Express Scripts
2016
Mark Barner ('81)
President, CEO, Ascension Information Services
Senior Vice President and CIO, Ascension
2016
Allen North
Assistant Vice President in Banking Supervision, Credit Community Development & Learning Innovation
Federal Reserve Bank of St. Louis
2015
Joseph Mooney
Chief Financial Officer
Lodging Hospitality Management
2015
Gregg Hammann
Chief Operating Officer
Sedgwick, Inc.
2014
Wayne Bell
Founder/CEO
Really Big Coloring Books, Inc.
2013
Virginia McDowell
President and Chief Executive Officer
Isle of Capri Casinos, Inc.
2012
Harlan Steinbaum
President and CEO
Medicare-Glaser Corp.
2011
David Stangis
Vice President Corporate Social Responsibility
Campbell Soup
2010
Dave Carroll
Group Director
Target
2007
Diana Daggett
America Region Director of Corporate Affairs
Intel Corporation
2006
Chuck Woods ('86)
Director, Financial Planning & Analysis Integrated Defense Systems
The Boeing Company
2006
Laura Patterson ('80)
President and Co-Founder
VisionEdge Marketing, Inc.
2005
Susan Plassmeyer ('86)
Executive Vice President, Construction, Engineering and Facilities Maintenance
Chicago Transit Authority
2004
Duane Nicks
Chairman of Famous Barr
May Department Stores
2003
Kenneth Johnson
Vice President and Portfolio Manager of Client Services
Loomis, Sayles & Co.
2002
James J. Parker
Vice President
Caterpillar, Inc.
2002
William L. Stowers ('87)
Vice President and General Manager of Supplier Management and Procurement for Boeing Military Aircraft and Missile Systems
The Boeing Company
2000
Donna Morrison ('79)
Vice President of LDD Billing Services
Sprint
2000
Vic Yeandel
Vice President of Marketing
Consolidated Products, Inc.
1999
Jeffrey A. Poe ('90)
President
Waechtersbach, Inc.
1998
Priscilla Hill-Ardoin
President
Southwestern Bell – Missouri
1997
Steven B. Barger ('67)
Senior Executive Vice President of Business Development
Primerica Financial Services
1996
Bradley Muth ('84)
Vice-President, Real Estate Structured Finance
ING Capital Corporation
1995
Charles M. Foudree ('66)
Executive Vice-President – Finance
Harmon Industries, Inc.
1994
Raymond F. Bentele ('60)
Chief Executive Officer (retired)
Mallinckrodt, Inc.