Agricultural Science Department: Farm to School Program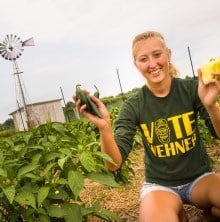 Truman State University is dedicated to promoting sustainable methods of food production, processing, and consumption.  We believe that local, seasonal production of food for campus dining should be promoted when it reduces energy consumed in production and transport and returns food dollars to farmers and processors in the local community.
Current Farm to School efforts are partially funded through a Specialty Crop Grant from the U.S. Department of Agriculture, administered through the Missouri Department of Agriculture.
Farm to School Program Internships

Internship positions in fruit and vegetable production and marketing are available during the summer for the Farm to School Program.  The interns will gain additional experience in safe production and handling procedures as they help research and develop protocols in preparation for the Farm undergoing Good Agricultural Practice (GAP) and Good Handling Practice (GHP) audit verification procedures. 
For more information, contact: 
Michael Seipel
Agriculture Department Chair
660-785-4316
mseipel@truman.edu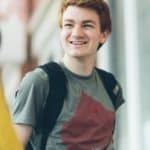 I chose Truman because of the affordability and its academic reputation. I looked at other schools, both public and private, and discovered that Truman is on par academically with so many universities but for a fraction of the cost. I knew that I wanted a stellar education but didn't want to graduate with thousands of dollars in debt, so Truman fit that mold perfectly.