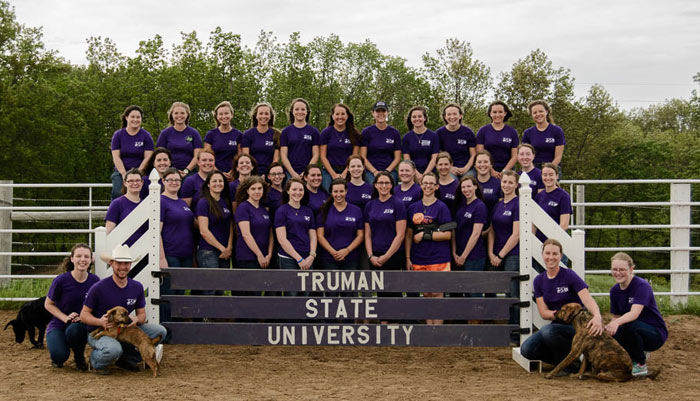 The Truman State University Equestrian Team is affiliated with the Intercollegiate Horse Show Association (IHSA) which provides collegiate-level students interested in showing horses a place to compete.  The Truman team consists of about 70 showing and non-showing members who ride English, Western, or both.
The team practices up to five days a week at the University Farm, located about 1.5 miles from campus. Riders of all levels are encouraged to participate. The team is coached by Emily Costello, an alumna of the Truman team and current Horsemanship Instructor.
The Shows

The Truman team belongs to IHSA Zone 7 Region 5 which includes schools located in Missouri, southern Iowa, Illinois, and eastern Kansas. The team travels by University-provided transportation to about 5 or 6 shows every semester. The shows are usually on Saturdays and Sundays so team members rarely miss classes to show. The hosting school provides the horses, and team members are not allowed to practice on the horses before showing. Riders are judged on their equitation and ability to control an unfamiliar mount.  The level each rider shows at is based on their horse experience prior to college and their accomplishments at IHSA shows. Each ribbon won in IHSA classes earns a rider points; 36 points will move a rider up to the next level and qualify them for regional competition.  A good showing at regionals will allow the rider to advance to Zone and possibly national competitions.
Practices

Practices are held Monday-Friday evenings at the Truman State University farm. Team members are not required to practice every night, but must attend practices before a show. Each week there is jumping practice for those hunt riders who compete over fences at show, jumping practice for riders who could soon jump at shows, and pattern practice for western riders at all levels. The team uses University-owned horses for practices so members do not have to own a horse to participate.
Team dues are $30 each semester and that includes as many practices as the member wants to attend. IHSA dues vary slightly but are usually about $40 for either English or Western or $60 for both.
Sound Fun?
If you are interested in joining the Truman State University Equestrian Team, please contact Emily Costello, coach, at ecostello@truman.edu.  You can also email the team at equestrian@truman.edu or visit the Equestrian Team website for more information.