The horse program at Truman State University consists of a riding program, which includes our Intercollegiate Horse Show Association Equestrian Team, a breeding program, and a research program.
Truman maintains a herd of approximately 30 horses which consists primarily of American Quarter Horses. These horses are used for all of our equine activities, which include:
Riding
Equine Science Course Labs

Intro to Equine Science
Livestock Management
Equine Exercise Physiology
Equine Reproduction Practicum
Projects and Special Activities
Reproduction
Truman maintains a small-scale breeding program to teach students the techniques of equine reproduction. Some of the offspring produced are kept and trained by students in our training class, and some are sold at sales or by private treaty.
We house one stallion at the farm, Leos Royal Bonita (aka Leo). Leo is a foundation-bred American Quarter horse who was born and raised on our farm. He is used in our AGSC 353 Equine Reproduction Practicum course to teach students about stallion handling, management, and collection and shipping techniques.
We also utilize and greatly appreciate donations of cooled shipped semen to current performance horse stallions to improve our breeding program.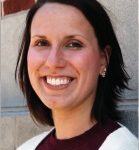 Truman's Agricultural Science Department allows students not only to have plenty of one-on-one attention with professors, but also with other Agricultural Science majors. All of us majors are like a family and are willing to help each other out, whether that might be tutoring for a class or assistance in finding a summer internship.