Health Insurance – LewerMark
All of the important insurance information is now online! Visit lewermark.com/truman to find brochures, plan summaries, and other useful information.
Information is provided on the LewerMark Agency website to help you through the insurance process. Printing ID cards, claim forms, and finding a new doctor are among the many services offered. Links on this site will give you the information you need throughout the school year. Please refer to this site when you have questions or needs related to your Lewer Insurance.
If you need to print out a new insurance card, the instructions are as follows:
Navigate here.
Navigate to 'MY ACCOUNT' on the top right corner in blue. Click on 'STUDENT'.
Navigate to the bottom page and click on 'STUDENT LOGIN'.
Key in your Student ID and password. (Password is your birthday by: MMDDYYYY)
Click 'Login'.
Navigate to the black lines on the top left corner.
Click on 'Online ID Card'.
An Adobe Reader will pop up in a new window.
Click 'Print' or 'Download' your insurance card.
International Student Support Program through LewerMark and Morneau Shepell
Find how to download the MySPP App here and view the MySSP Student Orientation.
Being an International Student can be Stressful
The International Student Support Program is designed to help international students face the challenges of balancing school, adjusting to a new culture and adapting to their other responsibilities.
Contact Morneau Shepell 24/7
Download the free My SSP app from your device's app store today
Visit us.myissp.com
Call 1-866-743-7732
If calling from outside North America: 001-416-380-6578
Help is available from a network of qualified professionals.
Morneau Shepell's International Student Support Advisors can help anytime, anywhere with:
Adapting to new cultures
Being successful at school
Relationships with friends and family
Stress, sadness, loneliness and more
Students can connect with an Advisor who:
Speaks their language
Understands their culture
Keeps their information confidential
Is available 24/7 and at no cost to the student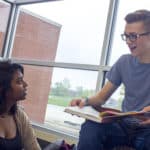 For me, Truman is made by the people I have met and the people who are found across the school. In one aspect, this is found in the organizations across campus: Greek letters painting the pavements, LARP-ing coloring the Quad, political activism sculpting the sidewalks…I feel as though everyone has a purpose — a niche that every individual can fit into.