Reejan Shrestha
Major: Psychology
Hometown: Kathmandu, Nepal
Secondary School: Siddhartha Vanasthali Institute
What has been the most surprising thing about studying abroad at Truman?
The most amazing thing I've found here is how quickly all the faculty and people at Truman embrace us as students and friends. My professors often ask me for my opinion in order to get a different perspective. Having a class with both international and American students makes our discussions interesting, and it feels great to be able to share my input.
How was your experience making friends at Truman?
It is very easy to make friends at Truman, as everyone is nice. The International Friend Program was created to help international students meet people on campus. It pairs an international student with an American student according to their similarities, interests, and goals. There are also many student organizations at Truman that help you meet new faces and make friends!
How would you describe your Truman experience?
Busy and exciting! My professors push me to do better, and are always willing to help me if I need it. There are so many activities happening on campus that keep me busy, which encourages me to plan ahead and be responsible.
What advice would you give to students who are considering Truman?
I believe that Truman has one of the best programs for international students. There are numerous things to do on campus that will keep you busy and help you adjust your life away from home.  I strongly encourage students to consider Truman!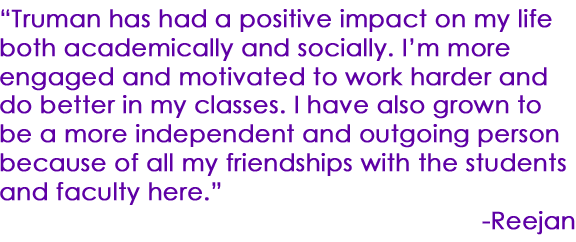 Contact Reejan at rs2363@truman.edu