Josh Chua
Major: Philosophy, Politics, and Economics (Interdisciplinary Studies)
Hometown: Vancouver, Canada
Secondary School: Semiahmoo Secondary School Student Organizations: Phi Sigma Pi (Honors Fraternity)
Why did you choose Truman?
I chose Truman because of its perfect student body size. It's not so big that I find it difficult to meet people, while it's not so small that it's make friends. Additionally, class sizes remain small, which enables me to build a more meaningful relationship with professors.
What has been your favorite class so far?
One of my favorite classes is Principles of Economics. To me, every student should understand economic policies, mechanisms, and institutions of his or her country. It is fundamental to electing good people into government.
How would you describe your professors?
My professors are incredibly smart, friendly people who are constantly going out of their way to help students succeed.
What is the atmosphere like for international students at Truman?
Studying at a college in the United States that embraces a liberal arts education is very different for those of us who have studied elsewhere. While other systems allow you to specialize faster in a specific field, a liberal arts education allows you to take a multitude of classes that you are interested in.
How would you describe your experience making friends at Truman?
Living in the residence halls on campus your first year really kick-starts your social life. Student Advisors are upperclassmen who live in the halls with students and help residents adjust to college life, and they do a great job of fostering friendships.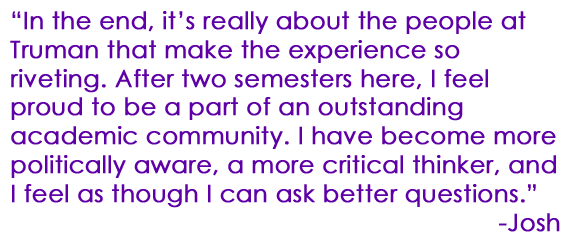 Contact Josh at jc5157@truman.edu