Year Founded:
1867

---

GPA of Incoming Students:
90% have 3.25/4.00 or above
Majors/Minors:
48/58
Percentage of Full-time Faculty with PhDs:
85%
Graduate Placement Rate:
90%
Percentage of Graduates Entering Graduate School:
50%
Students Participating in Undergraduate Research:
1,200

---

Academic Year:
Two 15-week semesters
Fall Semester:
Late August to mid-December
Spring Semester:
Early January to early May

---

Student Organizations on Campus:
240+
Size of Campus:
210 acres

---

Truman Student Enrollment:
Approximately 5,850 students
International Enrollment:
Approximately 400 students
Student/Faculty Ratio:
16:1
Average Class Size:
24 students

---

Scholarship Opportunities: Each year approximately 85% of all new international students each year are awarded an International President's Honorary Scholarship that covers up to 50% of tuition or more.

---
Truman State University is NATIONALLY RANKED, PERSONAL, & AFFORDABLE.
Click here to read more.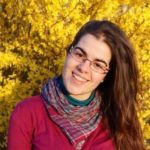 My favorite part of Kirksville without any doubt would be Thousand Hills. I've visited it during all the seasons, and I always get amazed by its beauty. We enjoyed nature, had picnics, played badminton and even walked on the frozen lake.