International Students:
Costs & Scholarships for Graduate Truman Alumni
The estimated costs for the 2015-2016 academic year: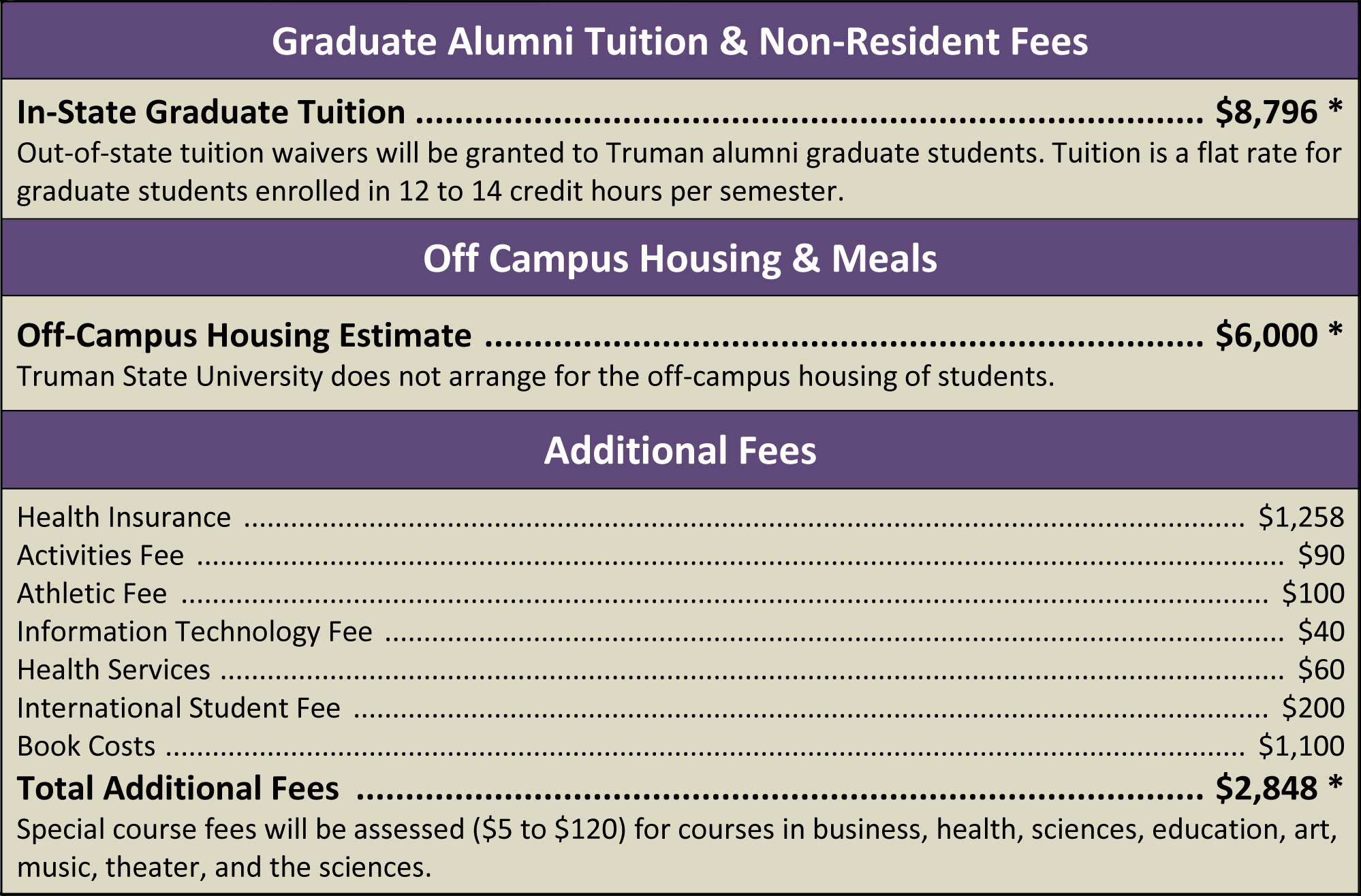 *Denotes the estimate of expenses on the Form I-20.
---
Scholarships for International Students
International students who have earned an undergraduate degree or completed an exchange program at Truman State University qualify for a waiver of the out-of-state portion of tuition for graduate studies at Truman. Applications for this waiver may be submitted to the Graduate Office after the undergraduate degree is awarded or the exchange program is completed. The waiver applies to "future" tuition and fees only and may not be approved retroactively.
---
Understanding the Costs
Tuition Fees: International students must pay for each semester's tuition, activities fee, housing and insurance the first week of the semester. Learn more about available methods of payment here. For more information about Payment Plans, consult the Business Office Webpage.
On Campus Housing and Meals: All freshmen under 21 years of age are required to live on campus. Those who begin in August must live on campus for two semesters. Those who begin in January must live on campus for one semester. Transfer students and graduate students may choose to live on- or off campus. They are encouraged to live on campus to make friends and become accustomed to American college life. For more information, visit the Residence Life Webpage.
Housing Damage Deposit: Students that choose to live on campus have to make a one-time payment in their first semester. A portion of the deposit may be refunded when students leave on-campus housing.
Scholarships: University scholarships will be automatically applied to your student account within 5 days of the first day of classes.
Health Insurance: International students are required to purchase health insurance for every semester of attendance at the University. The charge will be applied to your student account each semester. For more details please click here.
Activities Fee: Covers university-wide activities, organizations, and events (also subsidizes entrance fees).
Athletic Fee: Covers student use of the Recreation Center, involvement in intramural sports tournaments, and attendance of student athletic events.
Information Technology Fee: Covers on-campus Information Technology services that provide personal electronic device assistance. It also covers University Wi-Fi systems.
Health Services: Funds student health center/on-campus medical office available for check-ups and appointments.
International Student Fee: Covers services specific to international students—student support systems, immigration/admission services, etc.
Textbooks: The cost of books is estimated at $500 per semester; however, this varies with each student's course of study. Students may purchase their books from either one of the two textbook stores near campus: The University Bookstore and Discount Textbooks.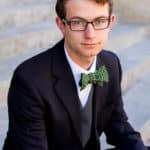 In all the classes I have taken in the department, I have spoken with professors easily outside of the classroom, and they consistently offer plenty of help on coursework and take a genuine interest in my personal and professional development. The professors come from a wide variety of backgrounds and have diverse academic interests, so the department offers a lot of different content and perspectives.