Susan Hatcher ('82)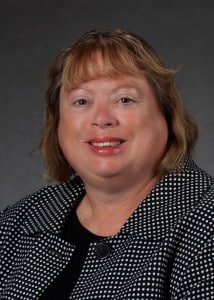 Susan Hatcher works at The Boeing Company in Supplier Management Financial Analysis in St. Louis, Mo., with over 25 years experience in Finance and Supplier Management.  Hatcher is a licensed CPA in Missouri.
Hatcher graduated from Northeast Missouri State University (now Truman State University) in 1982 with a Bachelor of Science in Accounting and began her professional career at the Missouri State Auditor's Office.  In 2004, she received an Executive Master of Business Administration from Washington University in St. Louis.
Hatcher serves on the Truman State University School of Business Board of Advisors and has served since its inception in 1998.  She also serves on the Washington University Online Business School Alumni Board.  Hatcher was active in the Missouri Jaycees and continues to be active in the Missouri Junior Chamber International Senate serving as Missouri President during 2013-2014.
Hatcher enjoys traveling, spending time at Lake of the Ozarks and Cardinal baseball in her free time.