Jim Cherrington ('85)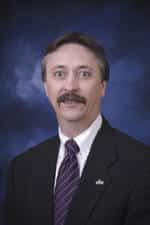 Jim Cherrington was born and raised in rural Glasgow, Mo., and attended Truman State University from 1981-1985, completing a Bachelor of Science degree in business administration. Originally on a music scholarship, Cherrington has fond memories of being a member of the Showboat Gamblers marching band.
Cherrington has worked for a CPA firm, a non-profit research institution and a state educational association. Currently, he is employed as the Director of Business Services for the Columbia Public Schools where he oversees the day-to-day financial operations of the school district.
He previously served six years on the Truman Alumni Board of Directors, representing the Mid-Missouri Alumni Chapter; he also served as vice president and president of the Board.
In addition to his involvement with Truman's Mid-Missouri Alumni Chapter, Cherrington is active in the Columbia, Mo., community. He has served as an elder and board member of Trinity Lutheran Church. He has also served on the Board of Directors of the Heart of Missouri United Way, Columbia Chamber of Commerce, Lutheran Family & Children Services Adoption Agency and the Columbia Metro Rotary Club. In 2003, he founded a "Reading Rotarians" project which partners with the Title I students and teachers in the Columbia Public Schools.
He and his wife, Mindy, a nurse practitioner, have five children and three grandchildren.