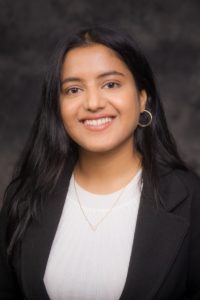 Shikha Bhattarai is a junior at Truman State University, majoring in statistics with a concentration in data science and pursuing a Certificate in Business Analytics. She is currently working as a data analyst intern for A.T. Still University helping with the collection and analysis of data, mainly for preparing reports for the current fiscal year.
Bhattarai also works for Truman's Office of Advancement as a coordinator for the University's calling center. While managing student callers, she encourages them to connect with alumni and strategize to increase alumni giving for various departments of the University. Prior to working as a coordinator, Bhattarai was a student caller for more than two years and loved establishing new relationships and nurturing existing ones with alumni and parents.
Bhattarai is a student assistant for the Portfolio Project of the University and meets with faculty and students to ensure completion of portfolio submissions by graduating students. She recently assisted in upgrading the University's database of students' portfolios.
Additionally, Bhattarai works as a mock interviewer and career advisor at the University Career Center where she helps clients prepare for prospective careers through resume critiques and mock interviews. She will be working as the data and tech intern for the Career Center starting in August 2022. She also occasionally helps the Learning Technologies Team with their technological needs.
Bhattarai is from Kathmandu, Nepal, and enjoys reading a variety of books, writing poems, trading and investing, listening to podcasts, and having meaningful conversations with friends. She is passionate about bringing people with similar ideas together for meaningful conversations. She also has an upcoming podcast that covers ideas of identity, authenticity, and values, especially in a student's life. As a student who has received great support from the Truman community, Bhattarai is immensely grateful to serve in any way she can. After graduation, Bhattarai intends to pursue a career as a data analyst before joining a graduate school in a few years.