Debra Kerby ('77, '78)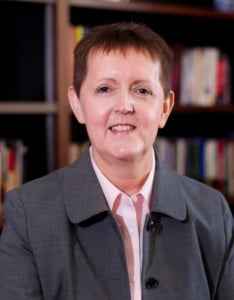 Debra (Deb) Kerby is the Dean of the Truman State University School of Business.  She joined the accounting faculty in 1982.  Through the ensuing years, Kerby directed the Master of Accountancy program, served as convener of the accounting program, served as Interim Head of the Division of Business & Accountancy, coordinated the University's Higher Learning Commission activities, and chaired several University committees and task forces.
Kerby has been the recipient of several awards for teaching and advising including the Walker and Doris Allen Fellowship for Faculty Excellence, William O'Donnell Lee Advising Award, Order of Omega Golden Apple Award, and the Missouri Society of CPAs Outstanding Educator Award.  She has presented and published numerous papers.
Kerby was a member of the first Pershing Scholarship class, earning a bachelor of science and master of arts in education degrees in 1977 and 1978, respectively.  She earned a Master of Accounting Science degree from Northern Illinois University and a Ph.D. in Business Administration from the University of Nebraska-Lincoln.  She holds CPA and CMA certifications.
Kerby is a member of several professional and honorary organizations including the American Accounting Association, American Institute of CPAs, Institute of Management Accountants, Missouri Society of CPAs, Beta Alpha Psi, Beta Gamma Sigma, and Phi Kappa Phi.  She serves on the boards of the Kirksville Area Chamber of Commerce, Missouri Rural Enterprise & Innovation Center, Bethel Cemetery Trustees, and New Hope Evangelical Church.
In her spare time, you will find Kerby cheering on Bulldog athletics and St. Louis Cardinal baseball.