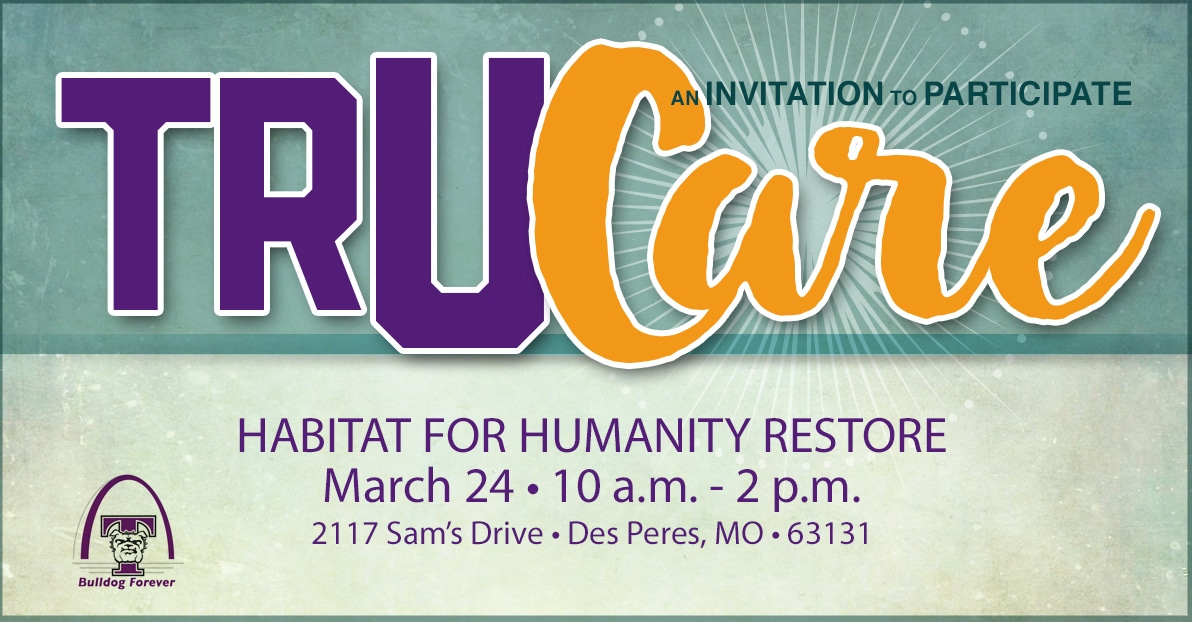 TRUCARE 2018:
HABITAT FOR HUMANITY RESTORE
Saturday, March 24, 2018 | 10 a.m. – 2 p.m.
The Alumni Association invites everyone to participate in the 2nd annual TruCare, an international event where the Truman State University community comes together to volunteer locally to show Bulldog spirit by paying it forward. The St. Louis Alumni Chapter will have their TruCare service event at the Habitat for Humanity ReStore.
The Habitat for Humanity Saint Louis ReStore has a three-fold mission: to provide additional financial support for the Saint Louis affiliate of Habitat for Humanity; offer a lower-cost alternative to a traditional hardware store; and facilitate reuse and waste reduction by diverting construction and household materials from landfills. At the Habitat for Humanity ReStore, tasks may include donation acquisition, merchandising, customer service, pricing, store organization, etc. Closed–toe and closed-heel shoes are required. Wear clothing and shoes you don't mind getting dirty. Feel free to bring work gloves. Volunteers are encouraged to show Bulldog pride by wearing University or purple attire. Volunteers must commit to a full four-hour shift. All volunteers must be 16 years or older.
While Truman students are gearing up for the Big Event in Kirksville, we're excited to bring that same TruCare spirit of volunteering to St. Louis. See you at the Habitat for Humanity ReStore! If you aren't able to attend the TruCare event but volunteer throughout the month of March, please log your service hours online. For more information about TruCare, please visit the TruCare website.
Interested in attending? RSVP by Friday, March 16 to Lisa Buckley at (314) 583-5482.
8.