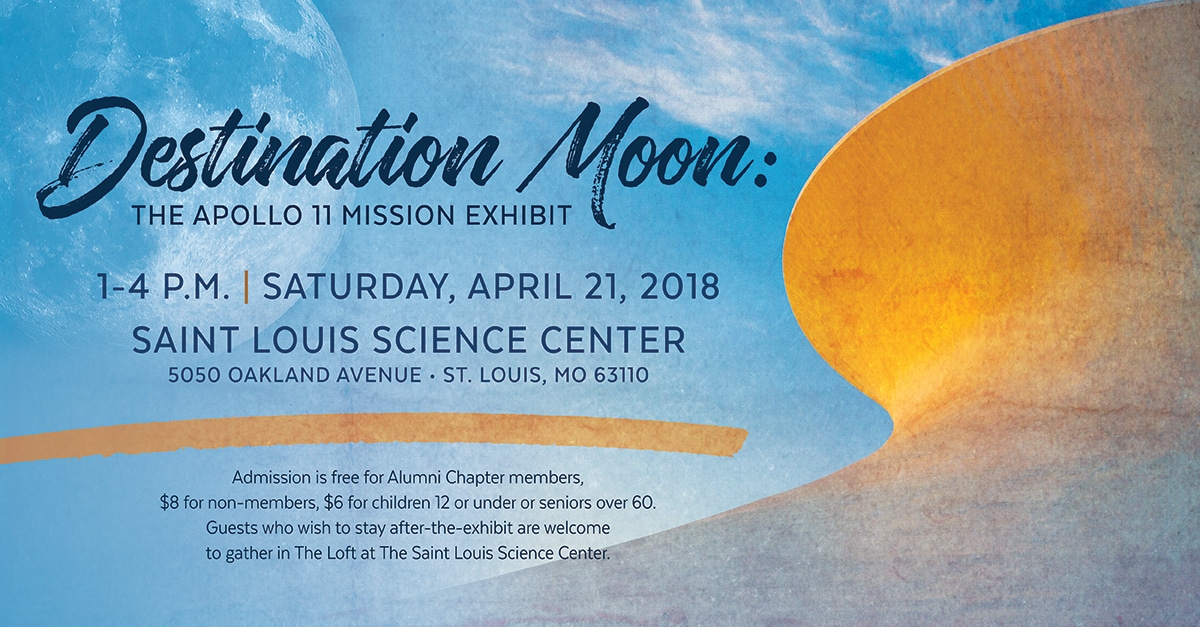 ST. LOUIS SCIENCE CENTER EVENT:
Destination Moon: The Apollo 11 Mission Exhibit
Saturday, April 21, 2018 | 1 – 4 p.m.
Saint Louis Science Center
5050 Oakland Avenue | St. Louis, MO 63110
Have you ever dreamed of being an astronaut or wanted to go into outer space? On Saturday, April 21 from 1-4 p.m. those space-adventure dreams can become a reality when Truman St. Louis Alumni Chapter members and guests tour Destination Moon: The Apollo 11 Mission. The Saint Louis Science Center is one of only four science centers nationwide selected to host the traveling exhibit from the Smithsonian's National Air and Space Museum in Washington D.C. The special exhibit features the Apollo 11 Command module Columbia, marking the first time in 46 years it has left the museum. In addition, the Science Center will display artifacts from the historic mission that landed man on the moon and share the vital role St. Louis played in the Space Race.
Reservations are limited to 30 people and MUST be received by April 10, 2018 through the online alumni store. Admission is free for Alumni Chapter members (limit 2 tickets per Chapter Membership). Other ticket prices are as follow:
– Adult ($8)
– Children Under 12 ($6)
– Senior Over 60 ($6)
Guests who wish to stay after the exhibit are welcome to gather in The Loft at The Saint Louis Science Center to visit and purchase refreshments on your own.
Interested in attending? RSVP by Friday, April 10 through the online alumni store. Please contact the Office of Advancement at (800) 452-6678 with any questions.