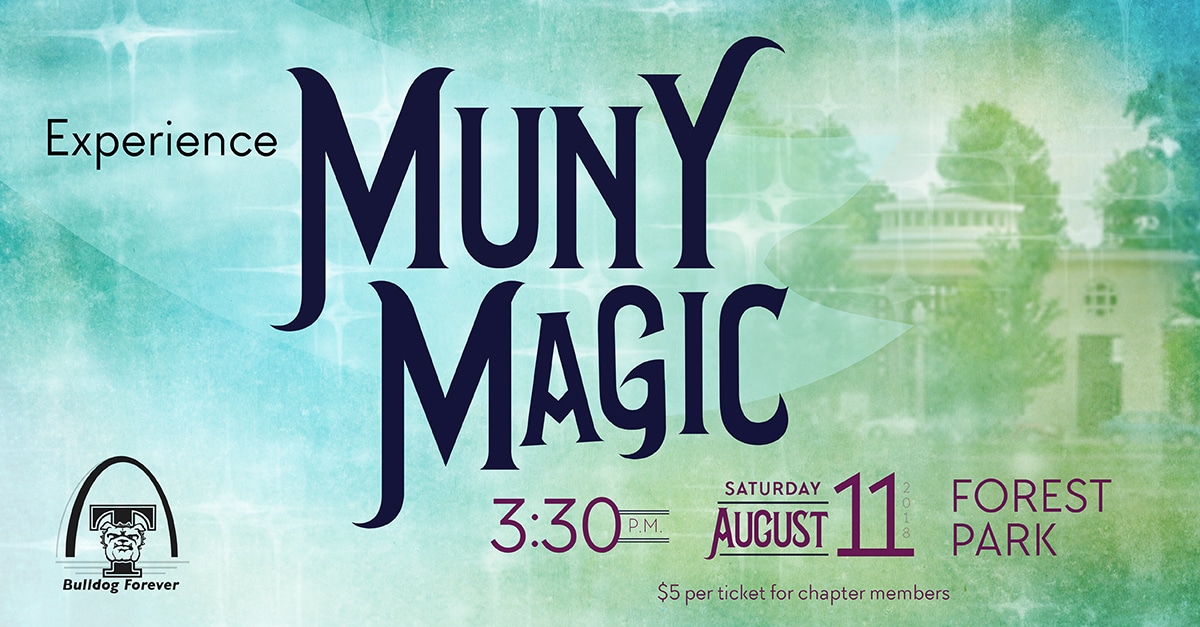 EXPERIENCE MUNY MAGIC
Saturday, August 11, 2018
Tour begins at 3:30 p.m.
What better way to wrap up the summer than to spend a day experiencing Muny magic firsthand? As the Muny celebrates its centennial season in St. Louis, join your fellow Bulldogs for this once-in-a-lifetime event!
First, join fellow Bulldogs at 3:30 p.m. for a FREE self-guided tour of the Muny Memories "100 Seasons Onstage" exhibit at the Missouri History Museum. The tour is expected to be between 60 and 90 minutes. This portion is open to all who are interested.
Muny Memories Description: "100 Seasons Onstage" shines a spotlight on this St. Louis summer staple. In it you'll find out how the theatre was formed, see highlights from seasons past, and peek backstage to discover how that famous Muny magic works. You'll hear the recollections of stars and staff alike, and have a chance to leave your own Muny memory. You'll also get to explore 99 seasons worth of Muny programs, vote on your favorite stage star, and even learn a dance step or two.
Then, take the experience to the next level by joining the group for a backstage tour beginning at 6:15 p.m. Following the tour, the group will attend the evening's performance of the classic "Meet Me In St. Louis!" Ticketsare limited and can be purchased on the online alumni store by August 1. Tickets are $5 for chapter members and $11.25 for non-members. Become a chapter member today to receive your discounted ticket!
"Meet Me In St. Louis" Description: Clang, clang, clang, we are off to The Muny! Based on the heartwarming 1944 MGM film, "Meet Me In St. Louis" paints a wholesome portrait of a turn of the century American family. Set in the summer of 1903, the Smiths eagerly await the grand opening of the 1904 World's Fair. With hits such as "The Trolley Song," "Have Yourself a Merry Little Christmas," "The Boy Next Door" and the title number, this is the perfect finale to our 100th season, and will evoke nothing but love and pride right here in St. Louis.
Interested in attending? RSVP by August 1 by getting tickets through the online alumni store. Contact the Office of Advancement at (800) 452-6678 with any questions.