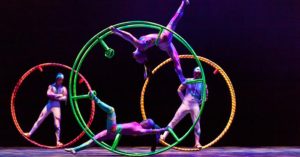 The Golden Dragon Acrobats hail from Cangzhou, Hebei province, in the People's Republic of China and have toured all 50 states in the United States continuously since 1978.
Their reputation remains solidly rooted in a commitment to the highest of production values and an attention to artistic details that is unparalleled in the art form… award-winning acrobatics, traditional dance, spectacular costumes, ancient and contemporary music and theatrical techniques…to present a show of breathtaking skill and spellbinding beauty.
Date: Monday, March 2, 2020
Time: 7 p.m. (doors open at 6:30 p.m.)
Location: Baldwin Auditorium
Tickets: $10 per person (available for purchase three weeks before the performance)
For more information, visit lyceum.truman.edu.