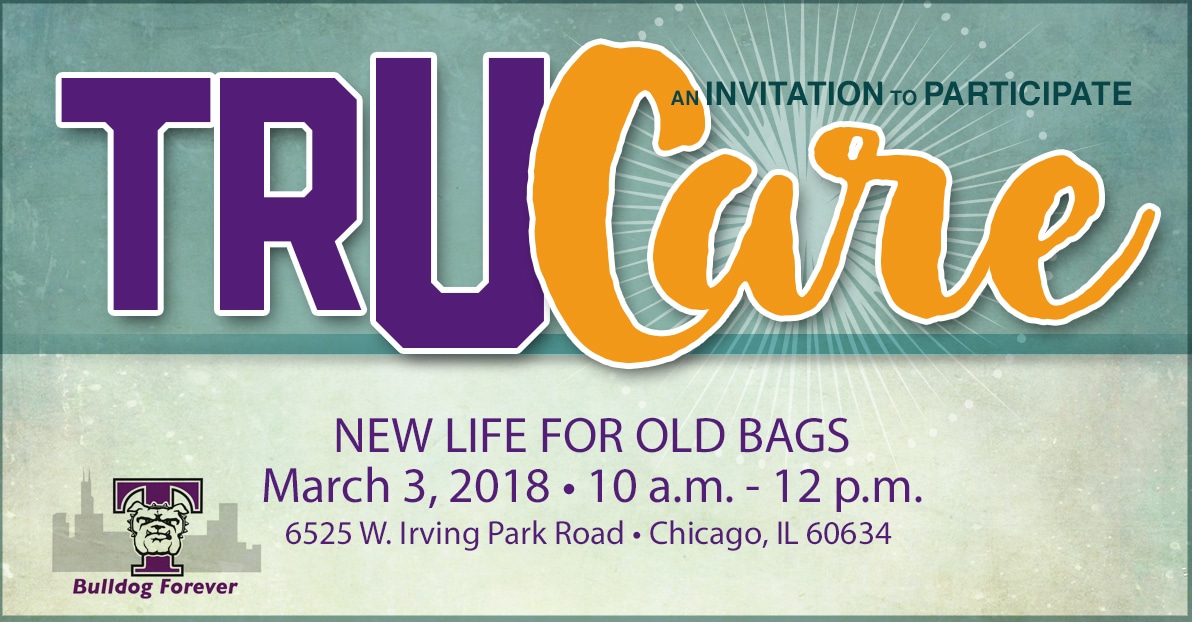 TRUCARE 2018:
NEW LIFE FOR OLD BAGS
March 3, 2018 | 10 a.m. – noon
United in Faith Lutheran Church
6525 W. Irving Park Road | Chicago, IL 60634
The Alumni Association invites everyone to participate in TruCare, an international event where the Truman State University community comes together to volunteer locally to show Bulldog spirit by paying it forward.
The Chicago Alumni Chapter invites you to spend the morning volunteering with "New Life for Old Bags" (NLOB), a collaboration of folks of all ages and abilities making sleeping mats for the homeless out of used plastic bags. NLOB is intergenerational and green. The mats are distributed by Cornerstone Community Outreach in Uptown. Please bring plastic grocery bags and scissors to the event.
Attendees are encouraged to bring other items to donate as well. NLOB suggests other donations that can be donated such as name tags, markers, scotch tape, masking tape, and decorative packaging tape, hand sanitizer, small plates (snacks/desserts size) large plates for lunch potluck, paper/foam cups, napkins, plastic utensils, plastic table cloths, ground decaf and regular coffee, powdered drinks (Kool-Aid, Crystal Light, etc.), sugar and artificial sweetener for coffee/tea, powdered creamer, disinfectant wipes, Ziploc bags (variety of sizes), plastic wrap and foil, snack items (crackers, chips, wrapped candy, packaged cookies, etc.)
While Truman students are gearing up for the Big Event in Kirksville, we're excited to bring that same TruCare spirit of volunteering to the Chicago Alumni Chapter. If you aren't able to attend the TruCare event but volunteer throughout the month of March, please log your service hours online. For more information about TruCare, please visit the TruCare website.
Questions? Please contact Lori Smerz with questions and to RSVP.