Thursday, September 24, 2020
6-8 p.m. (Central)
Zoom Webinar
Register now
Truman State University highlights its commitment to women entrepreneurs by participating in the seventh annual Women Entrepreneurship Week (WEW), a global movement to celebrate and inspire female founders.
Through a Zoom webinar platform, you will have the opportunity to meet and interact with a number of inspirational women about their entrepreneurial journeys. In addition to celebrating their journeys, our panelists will also dive into a Q&A session to discuss challenges and opportunities for women entrepreneurs, how Covid-19 has created both opportunities and challenges and much more.
This event is gender inclusive and open to all students, parents, faculty, staff and friends of Truman.
Hosted by Dr. Sue Thomas
University President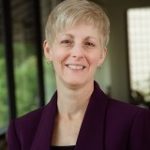 Facilitated by Dr. Janet Gooch
Provost and Executive Vice President for Academic Affairs


---
Meet the Panelists

Bianca Adams
Owner, August Bay Clothing Co.
Chicago, IL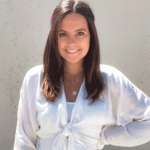 Carli Long
Founder, High Vibe Healing Gems
Kirksville, MO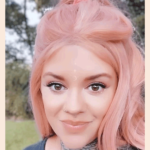 Mindy McCubbin ('97)
Owner and Founder
Truman Wealth Advisors
Columbia, MO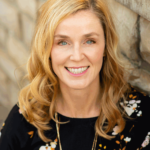 Stephanie McGrew ('10)
Founder, Lone Star Physique and Owner, Escape Room
Kirksville, MO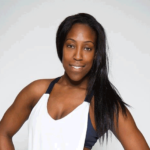 ---

Stephanie Mills ('07, '10)
Owner, Evey Lynn Bridal and Co-Founder, Fairy Godmother, Inc.
Kirksville, MO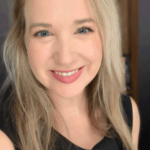 Jessica Parks
Founder, Take Root Café
Kirksville, MO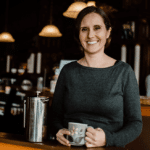 Sarah Schlafly ('11)
CEO, Mighty Cricket
St. Louis, MO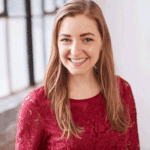 Kate White ('10)
Founder, TheirSpace and Co-Founder, Forward Co.
Omaha, NE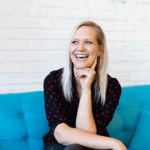 About the Panelists
Bianca Adams
Bianca Adams is the owner of August Bay Clothing Co., an online women's clothing store and pop-up shop based in Chicago, Ill. August Bay's mission is to inspire and empower women through kindness and style. While in school, she developed a passion for retail design, fashion and business. Her senior thesis tackled the question of what the future of retail would look like in today's digital world. As a "cusper" between a millennial and Gen Z, Bianca has approached her business with a unique perspective on how to create a meaningful shopping experience through both digital and physical platforms. During the covid19 pandemic, Bianca looked at the quickly changing retail landscape and created a second brand of handmade, dyed lounge apparel called Cloudy Dyes. Through marketing on Instagram and TikTok, Cloudy Dyes took off providing cozy, on-trend clothes and accessories for people staying at home.
Carli Long
Carli Long is a 31-year-old mother of three, wife, and an online business owner. She graduated from Columbia College with a Bachelor of Arts in history, although her current business model revolves around energetic healing modalities, which she has since obtained several other certifications in. She established her business, High Vibe Healing Gems, four years ago through the e-commerce website, Etsy, and is now ranked in the top one percent of all Etsy shops, worldwide. Carli hopes to share her knowledge of success with other female entrepreneurs around the world.
Mindy McCubbin ('97)
Mindy McCubbin  is the owner and founder of Truman Wealth Advisors, a boutique advisory firm located in Columbia, Mo. She is passionate about inspiring successful people to compound both their money, and their knowledge about their money. Her firm is dedicated to building and growing the "TruWealth community," which includes small business owners, entrepreneurs and successful professionals who are motivated to get more out of life and discover their true wealth.
Mindy is a co-founder of a local angel investment group (CoMo W.I.N.E) with the mission of investing in women entrepreneurs. Her prior experience includes significant asset management experience as Director of Equity Investments at Shelter Insurance Companies. As part of a team managing over $6 billion of institutional assets, she had primary responsibility for investments in public common stock as well as private placements within the venture capital, buyout, real estate and private credit markets.
Prior to joining Shelter, her previous work experience included various management positions at The Boeing Company. Mindy received a Bachelor of Science in finance from Truman State University and an M.B.A from Saint Louis University. She also holds the Chartered Financial Consultant (ChFC) certification. Mindy served for six years on the Truman State University Foundation Board where she held a leadership role as chair of the Foundation Investment Committee. She currently serves on the Board of the Heart of Missouri United Way. She is married to Travis and has two crazy kids who show her what true wealth means everyday.
Stephanie McGrew ('10)
Stephanie is a native of Texas but moved to Missouri to further her education. Receiving a Bachelor of Science in exercise science and Bachelor of Arts in biology (also a minor in health sciences and business administration) from Truman State University, she also has her Master's degree in health administration from A.T. Still University. Stephanie wanted to do something meaningful with her life by trying to use the skills and knowledge that she obtained from earning her dual college degree so she decided to open her own fitness studio called Lone Star Physiques. She has maintained her business for eight years while growing a client base of more than 100 clients. She now has two separate locations, a healthy meal prep service, and is working on various other business ventures. She also owns the local Kirksville Escape Room. Stephanie and her sister recently started a non-profit called 2315 E.L.M. Stephanie regularly participated in extreme endurance races (such as Tough Mudder, Spartan, GORUCK, and many others) and NPC regulated bikini competitions. Stephanie strives to motivate and encourage others to make beneficial lifestyle changes to help improve their overall health and quality of life. In 2017 she won the "Best weight loss facility" in Kirksville as well as "The best fitness facility." In 2018 Stephanie received the "5 under 40" award from the Kirksville Chamber of Commerce.
Stephanie Mills ('07, '10)
Stephanie is a Truman State University alumna (BA 07, MAE 10) with several small businesses in Kirksville including a bridal shop, Evey Lynn Bridal, and a property management company, Northeast Missouri Properties. She is a realtor with Century 21. Stephanie is also the co-founder of Fairy Godmother, INC, a 501c3 nonprofit that covers all 17 counties in northeast Missouri.
Jessica Parks
Jessica Parks is the founder and former executive director of Take Root, a local foods pay-what-you-can cafe, which opened in 2016 in downtown Kirksville. She and her husband also own a farm, Sun Earth Farm, and are launching an herbal tea business this winter. She was elected to the Kirksville City Council in April of 2019 and currently serves as Mayor Pro Tem. This year, Jessica took up writing a fictional book series called The Silver Key and is currently in the editing stage of the first book. She has a passion for creating a sustainable and local economy and helping other entrepreneurs get started. When she's not starting new businesses or projects, she likes to forage for wild edibles and play with her eight-year-old son. Her Bachelor's degree is in anthropology and human rights from the University of Washington, Seattle, and her Master's degree is in multicultural education from the University of Missouri, Kansas City.
Sarah Schlafly ('11)
Sarah Schlafly is the CEO of Mighty Cricket, a next-generation protein company with a mission to build a clean protein supply to sustain the world.
After receiving an accounting degree from Truman State University, Sarah made a career in food. She built a nutrition and cooking school in North Carolina where she worked with both Fortune 100 companies and families at the poverty line. In 2014, Sarah was awarded Inc. Magazine's Military Entrepreneur.
Upon entering the corporate world, Sarah was the digital marketing manager for a national food brand. She now runs Mighty Cricket full-time and travels internationally to share her passion for more sustainable food systems.
Kate White ('10)
Kate White is founder of TheirSpace which provides interactive tutoring and facilitated e-learning for school-aged kiddos during off-school hours. In addition to being a full-time entrepreneur, Kate has worked in design and technology for more than a decade for companies ranging from local tech startups to Fortune 500 companies; her work in that sector continues via her brand & UX consultancy, Designinator. She is active in the Omaha community with groups including Working Moms of Omaha, Nebraska Breastfeeding Coalition, Women In New Endeavors (W.I.N.E.) and the newly formed Forward Collective. Outside of these endeavors, she enjoys traveling, attempting HIIT workouts, chillaxing with her hubby and being a mom to two kiddos, Sparklepants the cat and Waffles the puppy.