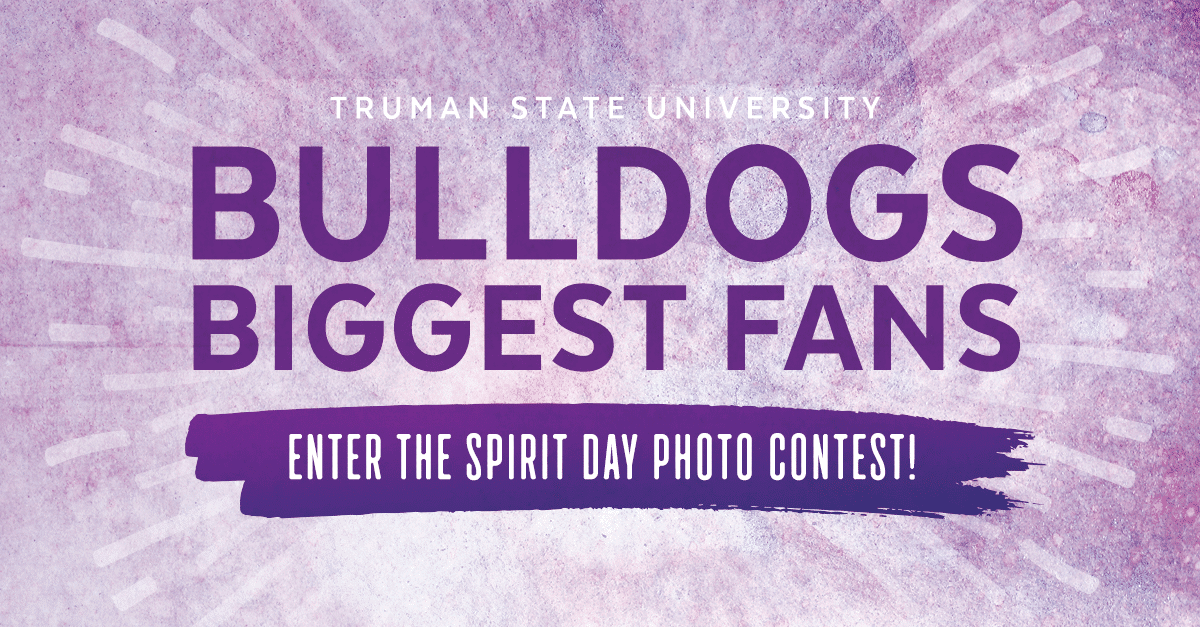 No matter where you live, you can stay connected to Truman by participating in National Truman Spirit Day! Celebrated on the first Friday of October, this year's Spirit Day is on Friday, Oct. 4, 2019. Show your Bulldog Pride and enter the "Bulldogs Biggest Fans" photo contest!

---
2019 "Bulldogs Biggest Fans"


SPIRIT DAY PHOTO CONTEST
****Enter for your chance to win a 2019 VIP Homecoming Package for you and three friends by participating in our Facebook photo contest "Bulldogs Biggest Fans!****
Step 1: Take a picture displaying all of your Truman spirit in celebration of National Truman Spirit Day. The picture can be as creative as you make it.
Step 2: Hashtag your most-spirited photos with #TrumanSpiritDay & #PhotoContest and post on Facebook, Twitter or Instagram between Sept. 20 and Sept. 27. Photos can include pets, babies, family members and friends, as long as they showcase Truman spirit.
Step 3: From the eligible photos, five will be selected as finalists and reposted on Truman social media platforms. The finalist with the most "likes" will win the grand prize which includes: one hotel room (Double) for Oct. 18-19; four tickets to the Bulldog Forever tailgate; four tickets to the Truman football game and four Truman Homecoming T-shirts. The winner will be selected at 12 p.m. Oct. 4.
Send in as many submissions as you want and be creative.  You have a chance to receive a VIP Homecoming Package, so have family and friends help you like and share the photo for a better chance to win! Good luck and have fun! Photos MUST use Both hashtags to enter the contest.
2019 VIP Homecoming Package:  1 hotel room (double) for Friday and Saturday, October 18 and 19, 2019.  4 tickets to the Bulldog Forever Tailgate, 4 tickets to the Bulldog football game and 4 Truman T-Shirts. 
Please note: There is no limit to how many people are in the photo submission, but the submitter of the winning photo will be the person who is awarded the VIP Homecoming Packages. Must be 18 years or older, and a current Truman student, alumni, or friend of the University. The prizes are non-transferable and cannot be given away.